AWESOME PEOPLE: AWESOME STORIES
Magical Success Stories: How They Fulfil Their Dreams In Just One Month? (Series-1)
In this Magical Universe, the possibilities are endless, and these magical people prove this. Irrespective of their age, sex, religion, social standard, educational background and country, they align themselves with the Universe and with the power of gratitude they have changed their life. This article is about their adventure with life to find their true bliss and yes they found it. A glimpse into their transformational stories, how they fulfill their dreams and achieve self-transformation, and collectively brighten this Universe.
This story of creating success in career, finding a dream job, meeting the soul mate, getting married, harmonizing relationship, celebrating love, pursuing their passion and starting up a new life in just 28 days of the magical journey with Gratitude.
The Universe proud of these Magical souls, they have left their mark in the soul of the Universe. Today's have a glimpse of their inspirational stories, a tale of their success stories collectively featured here on Awesome People: Awesome Stories.
It was 25th January 2014, and a group of men and women joined me for a transformational journey for next 28 days. They spread across the globe, from Australia, Hong Kong, India, Middle-East, Europe, Africa till US and Canada. They were with a diverse background and age group. They had a different lifestyle and social exposure, yet they had one common dream, they wanted to live their dream in this Universe.
Yes, all of them had this thing in common; they wanted to live a life they always dream. In fact, that's what every living human being on this planet wish for, but the difference stands on the answer to one question, and that is "Who wants to take a leap of faith?". But this group of individuals has already made their mind and answered aloud to this question. They knew no matter what may come they are ready to take this leap.
What may worst happen? Life would be same again, right. But, what if,
What if the leap of faith took their soul into a different dimension of the Universe where only happiness, success, abundance and true magic exist? And they already choose this.
At that moment some were excited, some were still living with their negativity; some were expecting a miracle to happen. But what binds them all, in spite of their fear or excitement they have decided to take a leap of faith and give the power of gratitude a chance.
They were ready to invite magic into their life and despite all challenges, they were ready to enlighten their Universe.
And what this tribe has achieved in these 28 days of the journey is beyond phenomenal. They not only learn or practice the 28 Magical Practices but indeed they make it their statement of life. Now they are living this every day of their life.
It's a blessing for me to take these remarkable people on this magical journey and now I would love to share a glimpse of their magical life with you. I am sure this magical glimpse going to inspire you.
Law of Attraction Success Story #1: From Hopeless Job to Super Dream Job 
At the beginning of this journey, Divya told me just two words "Dream Job." By that time, she was in a job that she doesn't like at all, and it was getting difficult with every passing day. She just wanted to manifest her dream job, because that's the gateway to her dream life.
As the 28 Magical Practice move ahead, she started pouring gratitude into her present job and every area of life. She started being happy for no reason. Then her frequency starts changing and she finds it comfortable in her job while being focused on what she wants.
As the journey of magic moved ahead, out of blue, she started getting job calls. By the end of 28days, she already had two jobs offers and that too with no extra effort. And while she was enjoying the feel of magic.
She got a call from a job that she was thinking not at all possible for her at this point; the company is a global giant, but the vast opportunity was making her nervous. As I remind her magic, her excitement of success and gratitude conquer nervousness and fear. She won the interview with a smile. She had been offered the Job at the interview table with a big fat salary that she had never expected.
It still seems like a dream to her.
While many may say she is lucky, I say she has made her Destiny shine high with magic. She didn't ask luck to favor her, but she builds her luck with magic. And with excitement, she began her glorious journey of life with her super big dream job.
All this happened just in a span of 1.5 months. Magic is working.
Law of Attraction Success Story #2: Reunion With Husband After 2.5 Years
This story is about Shanti, who has a remarkable story of getting back with her Husband after 2.5 years of separation. She had painful years living a devastated life away from her husband. She had lost her self-confidence, self-love and all possibilities of getting a happier life.
About nine months back she found her way to me, to help her in healing her relationship and attracting back her husband. She started following the 28 Magical Practice under my guidance and only in 3 months they started talking after 2.5 years. In next three months, they realize the love and finally, she reunites with her husband.
Now her husband loves her more than before, and they are living in bliss and harmony is at the peak. In all these months, she kept doing the magic and discovering a new level of power with it every time.
While doing this course for the 5th time under my guidance during Jan-Feb their Marriage Anniversary came. She and her husband were celebrating this anniversary after four years, and it was so magical, she had tears of joy.
She told that she had never experienced so much love ever in her life before, her husband is now treating her like a queen and with every passing moment, their life is getting better and beautiful. She said, "All thanks to the magic for changing my life and changing my universe."
Now she and her husband living happily in their dream house.
Law of Attraction Success Story #3: Finding Peace & Happiness Within
This story is about a young business person Meihol from Surat, who is always passionate about his work and success but couldn't able to have peace. The constant ups and downs of business and flow of money keep him restless. Same thing happened to so many business people. The hassle of work always keeps them on the edge.
Even he found it difficult to read the magic practice emails and write gratitude in the beginning. But he was determined to change his life. His decision to find peace and happiness were much stronger than the restlessness and desperation.
He took a baby step with gratitude and his deliberate effort to follow magic change his life phenomenally. He keeps doing it, and he was experiencing the magic.
As a result of just within a week, his relationship with his wife, family members, and friends have become more magical. He is now passionate and happy about everything of his business. He can sleep happily at night.
His miracle happened on a day when an unknown person came to his office and gifted him many motivational movies and videos including "The Secret" and all this for free. He has never thought to collect so many positive resources, only when he starts being positive the resources find their way to him.
He is running his business happily now.
Law of Attraction Success Story #4: From Ending Life to Finding Life
Avinash has lost all his hope about life. A long struggle in his love life and experiencing pain, he was convinced by the idea that life is worthless and has no value for living. Living in a corner filled with rejection and sorrow, despite his attempts to prove his true love, he was ready to end his life. He has given up on his work, career and human relationship.
This young man was decided to end his life when he found the link to this course 28 Magical Practice. Somehow he saw a ray of hope and told me his story and asked can this magic bring peace to his soul. In fact, that was not me answering him; he had his conversation with the Universe.
This young man on the verge of suicide took a leap faith to start this journey and now falling in love with himself more and more every day. He now understands the way of the Universe; he is happy and at peace with his soul.
He believes in the gift of life and following his dream growing strength to strength. He is happily attracting everything he wants, his love, his dreams and his happiness. Now he is happily spreading the blessings and gratitude to all through the day and living his life smiling ahead.
Like these magical people, there are so many people who follow this magic of gratitude and working on building their self-esteem, removing negativity and creating abundance in every area of life.
Change is happening magically because all these people are taking a transformation walk into the magic.
Would you like to take your transformation journey with 28 Magical Practices? Would you like to take a leap of faith for just 28 Days to change your Universe?
If YES, then join me, it's starting again.
Why is the 28 Days Practice of Magic needed?
It is proved that to change any habit and create a new habit, you have to practice the new habit continuously at least for 21 to 28 day without failing a single day. If you can continue it for 28 days, then you have the new habit of you. To create this habit, 28 days is the best time. That's why this 28 Magic Practice is designed for 28 days.
If you are committed to fulfilling all your dreams, then join this phenomenal course.
Thanks a zillion. May the Magic Be with You.
Thank You, Thank You, Thank You.
Love & Gratitude,
Awesome AJ
Law of Attraction Coach & Motivational Speaker
---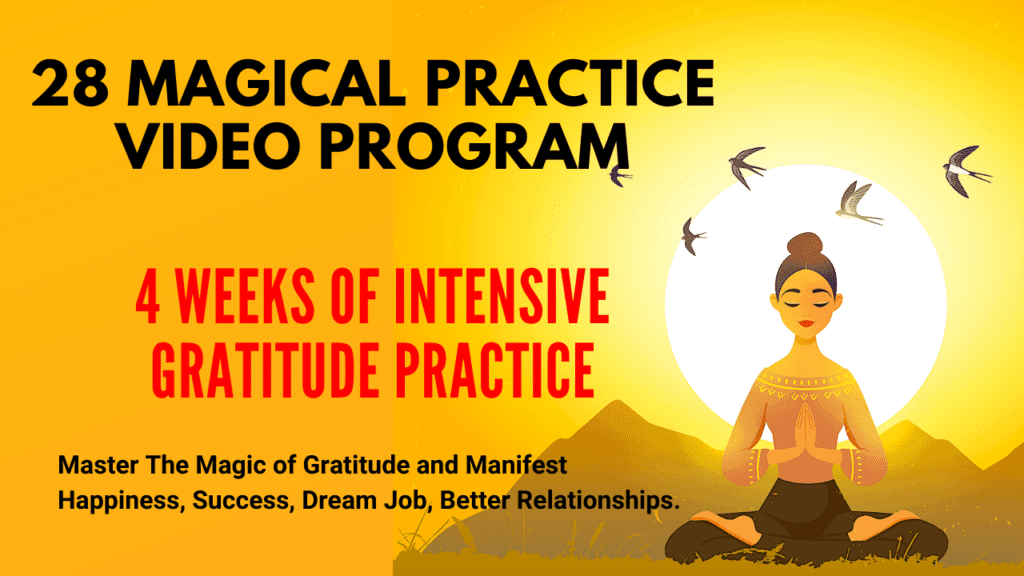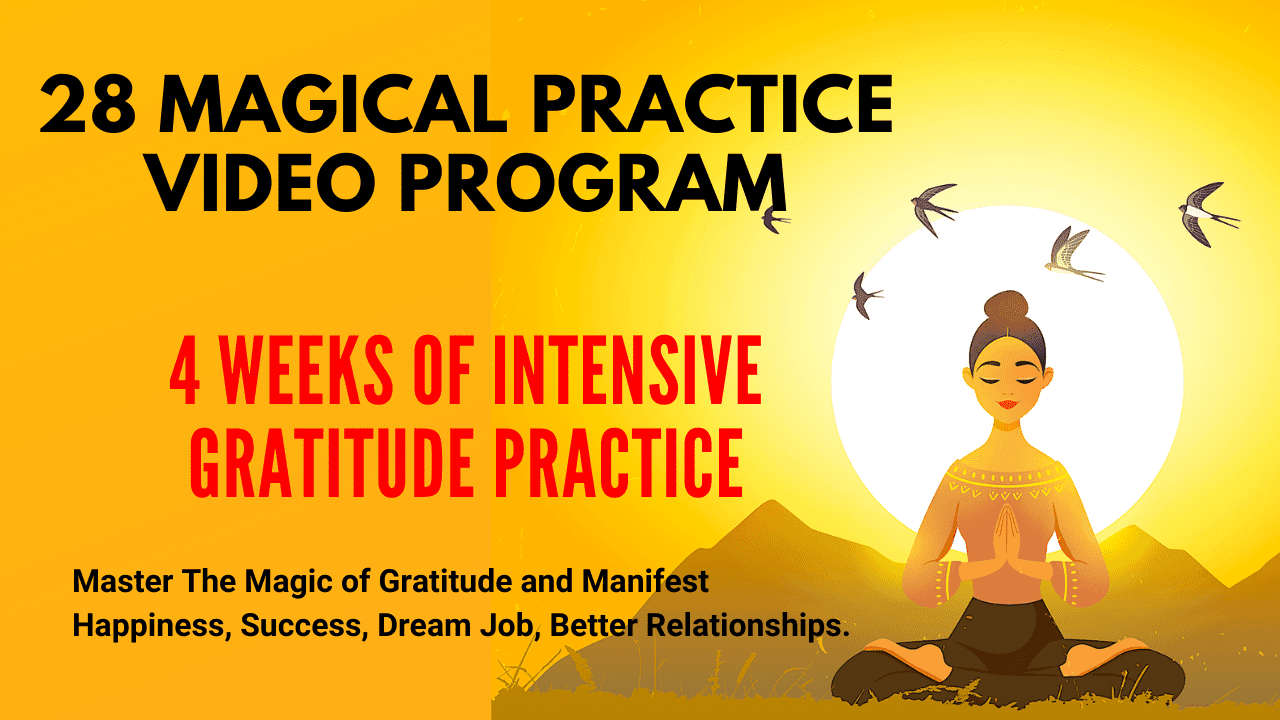 ---
If you find this post inspiring, do share it on Facebook, LinkedIn & Twitter.