Join Today!!!
28 Magical Practice – Law of Attraction Online Video Course
Do you want more from your life?
More Happiness? Better Health? Better Relationship? More Prosperity?
What if I told you that one thing could help you transform every area of your life?
Yes, It's GRATITUDE. Just writing down 3 things you are grateful for each day, end up 10% Happier in 6 weeks late. Gratitude is an easy and effortless way of changing your life magically. That's why I called it MAGIC OF GRATITUDE.
How'd you like to learn about a practice that will change your life forever?
Ever wonder how many wish you can manifest within just 28 days?
There's a way for you to raise your feelings and vibration with Super-Powerful GRATITUDE Practice and the Law of Attraction.
Would you be interested in learning more about it?
You might be thinking, I already knew about the Law of Attraction and practicing it, then how this course will help me?
This course is specially designed for the believers of the Law of Attraction and those who are ready to manifest their dreams.
Do you know why many people in spite of knowing the Law of Attraction couldn't manifest most of their dreams?
3 Main Reasons:
1. You know that your thoughts and feelings create your manifestation, but if you don't know how to stay happy and live with positive feelings, then you will not able to manifest your dreams.
2. You are believing that being happy is very difficult and couldn't find ways to change these negative feelings.
3. If at all you can stay happy or positive but it doesn't last long. So you must get yourself in a habit of living with gratitude.
The 28 Magical Practice Course works as the Best Course in LAW OF ATTRACTION Training Arena.
Hey "Awesome AJ", You know your 28 Day Magic Practice Program was just awesome like you. It was a blessing in disguise for me. As I was not happy with my average job and my mind was full of tensions and negativity and then god just came to rescue me from that situation through you…I did those practices religiously and guess for me your practice to write daily 10 good things about yourself worked well…Now I am so happy full of positivity and got my dream job as well…in fact, I should be saying I got more than what I ask for…you are so well versed with Law Of Attraction, that talking to you just makes me feel I am in vortex ..You are really wonderful Ajay. I have told you earlier as well that there is a sea change in me after completing this practice…and conversing with you was the real pleasure you come with such a strong positive personality….Keep doing this Awesome work. Zillions of thanks for showing me the pathway to success and happiness and abundance -Divya, Delhi
Hi Ajay, I am really glad that I decided to follow the 28 days of magical practice with you, your daily emails inspired me and motivated me to follow and complete the magic practice. I was going through a tough time but the practice kept me happy and hopeful. Before the practice I was job hunting with no luck and my relationship with my boyfriend was over, during the 28 days I got my dream job and my boyfriend and I are in a better place. I really appreciate you organizing the course and will keep practicing the magic practice for different areas of my life starting with relationships. Thank you very much and keep doing what you are doing. Thanks – Linda. USA
Do you want to know, how this 28 Magical Practice has changed people's lives?
Check the following links and read about success stories of magic people, who have changed their life with this course:
Ready for a life-changing experience? Are you committed to giving your best?
If your answer is YES, then join this phenomenal course.
TAKE ACTION NOW
Join thousands of other participants on  this magical journey 
"28 Magic Practice – Video Training Course".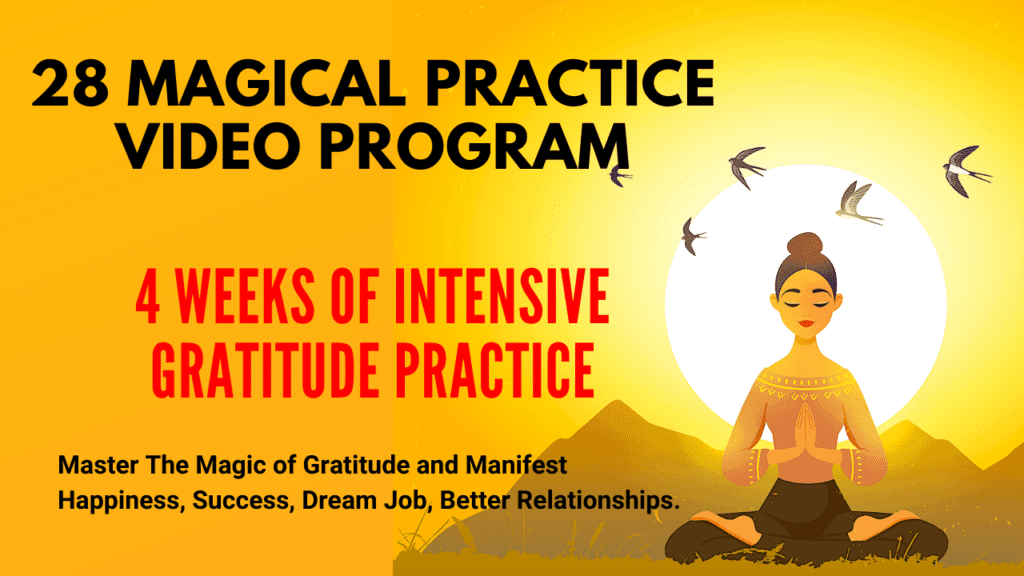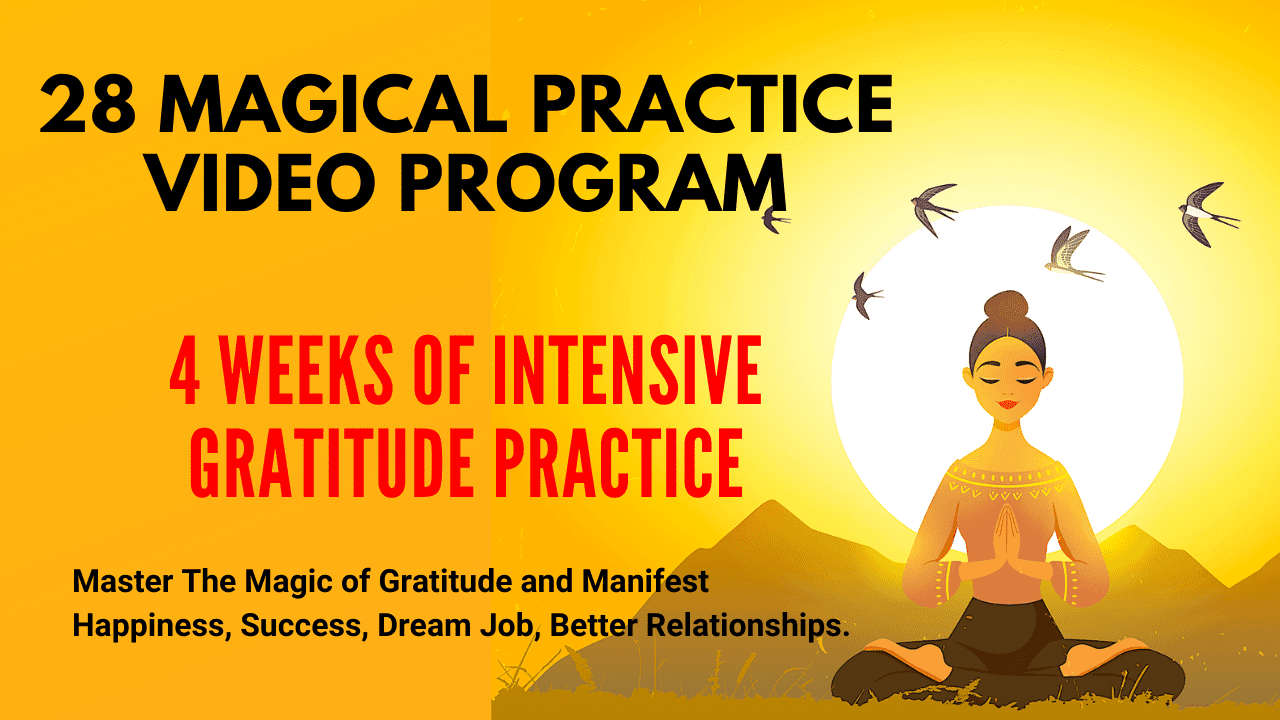 Just one thing to say about 28 MAGICAL PRACTICES Training with Ajay Mishra was a Mind-Blowing Experience. I did that in April 2014 with him I recommend it's worth doing during the entire 28 days Awesome AJ stands by You like a rock…………i.e from starting to end it's really a magical journey under his guidance moreover I found it value for money…………….TY TY TY – Sushant, Mumbai
This Life-Changing Magical Journey is starting TODAY.
Join this Magical Journey to manifest all your dreams, Hurry Up. Limited Registrations Only.
This course is a VIDEO Course to infuse the superpower of Gratitude and Law of Attraction to help you set your life in the positive mode and manifesting all your dreams.
This course is the base on the concept of The Magic Book, but this is a much simplified and advanced version of the practice.
I have found this course so useful that I have started believing in myself. counting my gratitude shows self-importance and love. I can see so many blessings in my life make me feel so rich with relations, materials, and love. I believe that everyone should do this course "28 MAGICAL PRACTICE" with AJ. I have lotteries in the form of respect, awards, trips and much more in just last three times practices. – Meihol Jhaveri, Surat
HONESTLY, This Course is NOT FOR EVERYONE.
This Course is For YOU, If:
You believe in dreams.
You are ready to manifest all your dreams and love to get yourself into a positive habit.
You may have failed before, but you are committed to your future self and ready live a happy and abundant life.
You are practicing Law of Attraction or knows about it or just new to it, but you believe in it.
You want to live your life phenomenally with Happiness, Love, Great Relationship, Happier Job and Massive Wealth.
Thank you so much for your guidance on LOA and magical practices……today is my 3 day of magical practice and let me tell you this is the 3rd time I am doing it…..thank you so much….i started this practice by your guidance and it has made me easy to understand and practice gratitude :):)…..you are amazing…..god bless you…. -Manasi
You are really awesome Aj….I love your Aj tips & universe msgs….I was lucky to do 28 Magic Practice under your guidance…..attracted many things…..I become more positive…..Thank you, Thank you and  Thank you for your support 365*24 – Sudarsan Rathi
Sir. I am heartily grateful for your constant support. Very easily you guide me in 28 Magical Practice Course. I have no words. I became very positive n confident. You are an angel for me. You are really awesome. keep it up, sir …..Thanks again n again…. – Shilpa
You have injected "The Magic" practice into every person daily life. All Ages of people irrespective of religion, nationality, sex, culture, language & etc differences. The Magic is the gateway to The Heaven. The answer of All Questions is "The Magic" – Avinash Gudapati
TAKE ACTION NOW
Join thousands of other participants on  this magical journey 
"28 Magic Practice – Guided Training Course".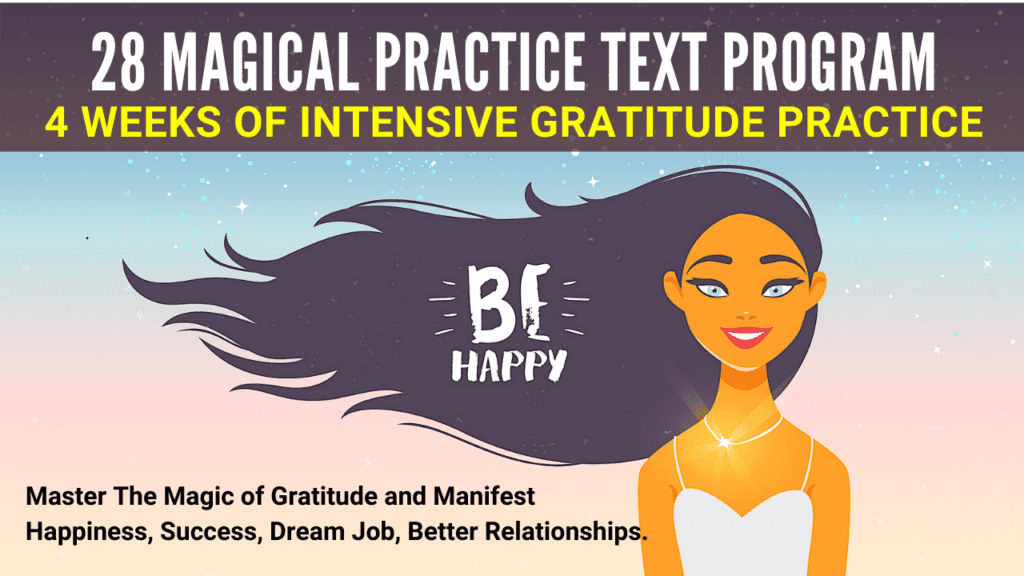 If you have any queries or you want to pay by cash transfer then please email me at aj@awesomeaj.com
Thousand people have already changed their life, don't you want to try this new way of life with Magic?
Don't you want to commit yourself to just one month for a life-changing experience?
Give Yourself An Opportunity to Attract Success and Abundance.
Ready to Change Your Life Phenomenally. Not Next Month, Not Next Week. ACT NOW. JOIN THIS COURSE.
Zillions of Gratitude to You. Love to have you on board.
May the Magic Be with You.
Awesome AJ
Law of Attraction Coach & Motivational Speaker