I believe GRATITUDE is the most powerful force for Manifesting Our Dreams.
Over the years, my life has changed phenomenally with gratitude and I have helped thousands of people in learning more about the power of gratitude and how to practice it. It's not at all a surprise for me to see each one of them changing their life magically.
In my dictionary GRATITUDE = MAGIC.
You can do, have or be anything you want in life with the power of gratitude.
Let me tell you "why Gratitude is Awesome":
– It's a pure positive emotion.
– It can uplift your positive spirit instantly at times of difficulty.
– You have always something in your life so grateful for, it means you can uplift your spirit all the time.
– You can't overdo gratitude, it means you will never get bored with it. The more you do the better your life will be.
– The best it can improve all area of your life (Health, relationship, money, job, love and overall happiness)
Such is the power of gratitude.
You have read tons of success stories on this blog about people manifesting their dream jobs, love of their life, healing the broken relationship and creating miracle health. If you are yet to read them, I encourage you to read them now.
Reading someone else's positive stories will program your subconscious mind to create your own success story.
But these success stories don't happen overnight. All these manifestations happened when these amazing people start practicing gratitude religiously. All of them were living with many challenges in their life and even some of them were completely hopeless about life, but they have one thing in common that is a deep desire to make their life better and live their dreams.
Only desiring a great life cannot bring you the happiness. You must resolve to take a leap of faith and put yourself in a process to build a habit that will change your life forever.
There is nothing better than start building a HABIT of GRATITUDE.
For all these amazing people who are committed to change their life and ready to take a leap of faith I have designed a super powerful course on Gratitude called 28 MAGICAL PRACTICE.
This course is highly magical and easy, yet so powerfully designed to impregnate the power of gratitude into your mind, body, and soul. When the power of gratitude impregnate within your soul and become your daily habit miracles happened in your life.
Today I am sharing joyful manifestations of magical people who have taken this journey of MAGIC (Gratitude) with me and phenomenally transform their life and manifested miracles.
Today I am not writing their stories, I am just posting their direct messages to you and believe me "if they can do it, you can do it".
These are success stories of Dream Job Manifestation, New House Manifestation, Healing of Broken Relationship and magically achieving much more in life. They have achieved all of this just in a month of practicing MAGIC OF GRATITUDE.
Here we go:
Dream Job Manifestation: Swati's Success Story
Swati was searching for a job in HR and she directly got the position of a Manager. She was so thrilled with what she was able to achieve by practicing 28 Magical Practice that she is doing it again.
Are you believing in the miracle of receiving more than you are asking?
If NOT then you must start practicing GRATITUDE and witness the magic happening in your life.
Dream Job at Desired Location: Hima's Success Story
Hima was searching for a dream job at her desired place, she was getting a job in IBM but not at the desired place. When she started practicing gratitude she got it magically.
Even before the magic practice people around tried to convince her this manifestation is not possible. But she ignored their advice and listen to her own heart. She chose the magic of gratitude as the force to manifest her dreams.
Are you listening to others who are saying that your manifestation is not possible?
Stop listening to them and start giving yourself a change by practicing gratitude religiously. You too can manifest your happiness.
Hima's has more manifestations to share with us.
Healing of Relationship: Again Hima's Manifestation
Hima has not only manifested her dream job at the desired place with kind of profile she wanted, she was able to heal her broken relationship with her sister.
All this was possible in just one month of practicing gratitude.
New House Manifestation: Jeanette Success Story with Gratitude
Jeanette manifested her brand new house with the practice of gratitude. read her message below.
When I asked her "can I share your manifestation with my blog readers?" this is what she replied: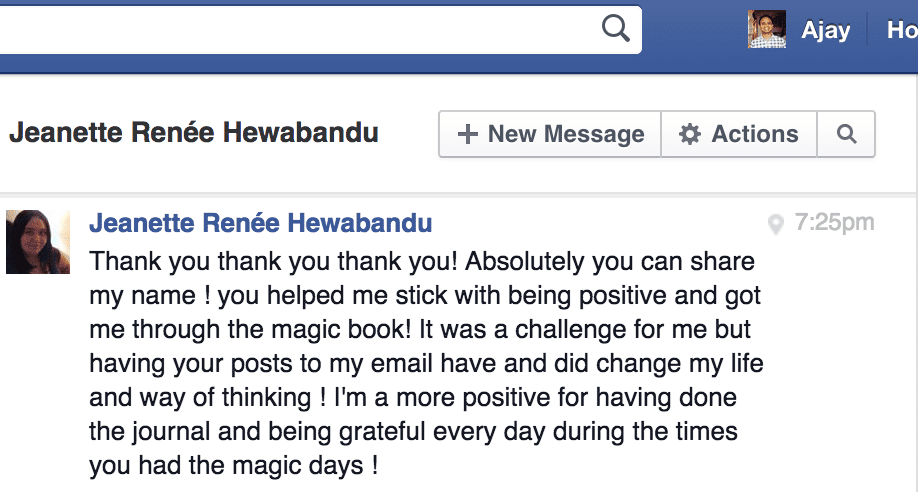 Getting The Desired Job: Vinoth's Success Story
He manifested the job he desired in just one month of practicing gratitude. It's a miracle for him but not for the Universe.
Are you asking yourself that from where and how the right opportunities will come to you?
Get inspired by Vinoth's story and stop asking "How" or "Where". Start believing in your dreams and keep manifesting with the magic of gratitude.
Read more about how Vinoth started manifesting things from the beginning of the 28 Magical Practice.
Dream Job Manifestation: Meghavii's Success Story
Having faith in her dreams and believing in the law of attraction made her strong. As she started practicing the magic of gratitude miracle happened and she manifested her dream job magically.
I believe the magical success stories of Swati, Hima, Jeanette, Vinoth, and Meghavii have inspired you for sure.  Infinite gratitude to all these magical people.
You can read hundreds of such magical success stories on the testimonial page.
Now is the time for you to stop wishing for a better life and start acting.
The Universe and The Law of Attraction are always working for you, but the question is "Are you ready to work for yourself ?"
If your answer is YES.
Then start your journey to greatness with GRATITUDE. Get yourself into the habit of gratitude to build your magnificent life. If you are still struggling in your life, give yourself a change.
Join this life-changing journey of one month NOW.
Always remember "Give GRATITUDE in advance and get whatever you want".
I am extremely grateful to all the wonderful people who have become a part of this magical journey so far.
I wish you massive success.
Thank You, Thank You, Thank You.
Love & Gratitude,
Awesome AJ
Law of Attraction Coach & Motivational Speaker
---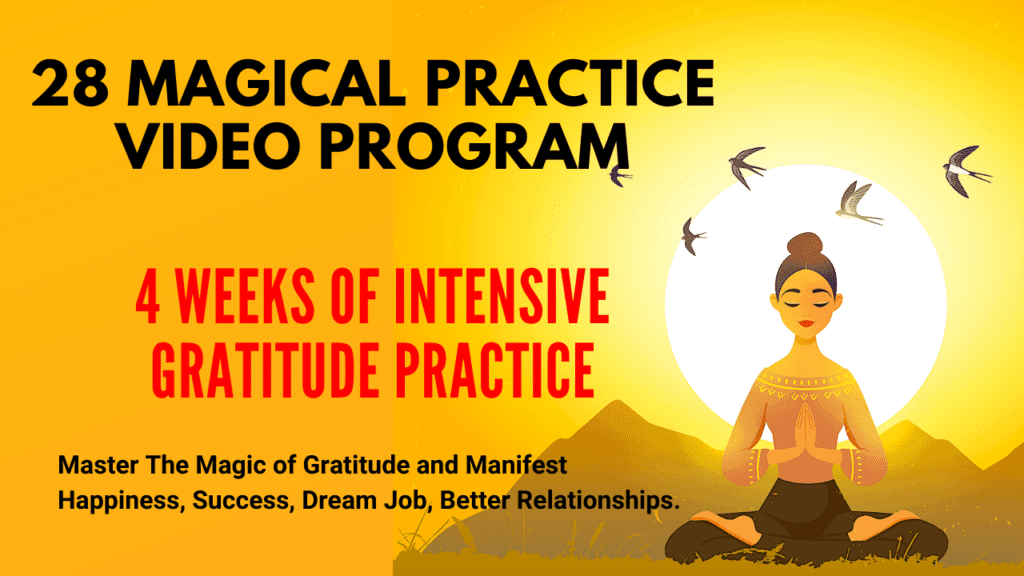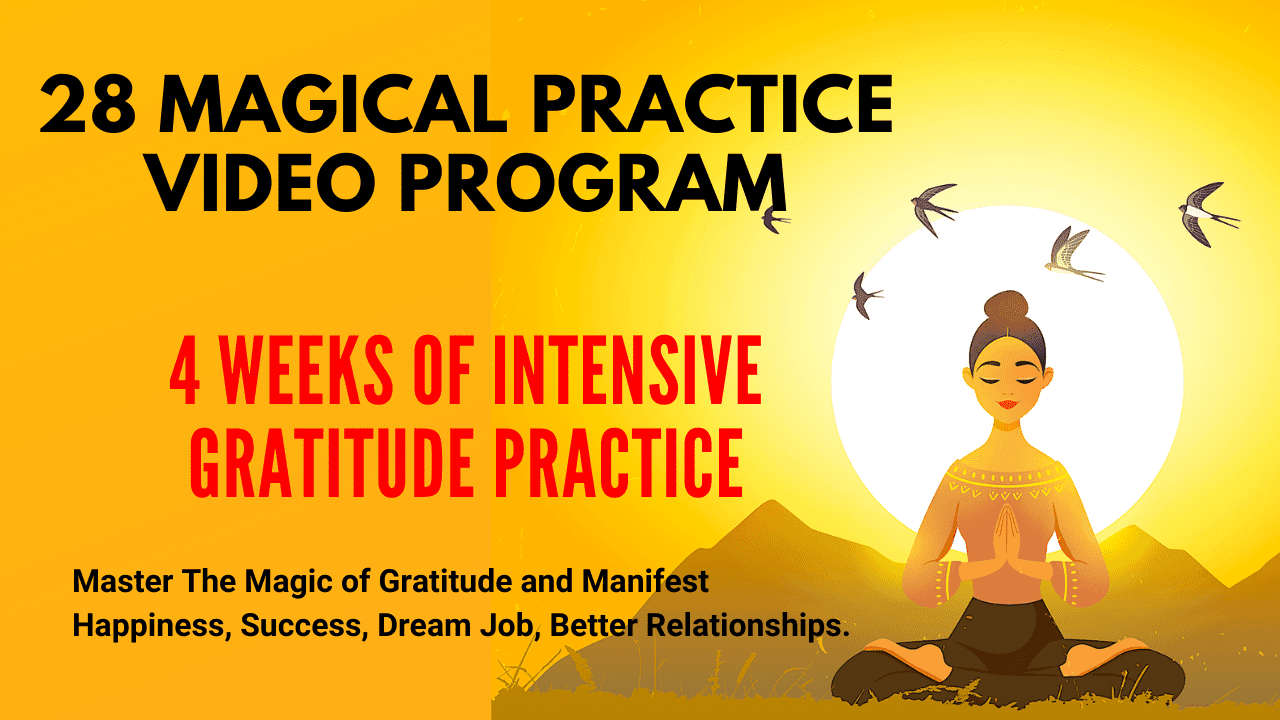 ---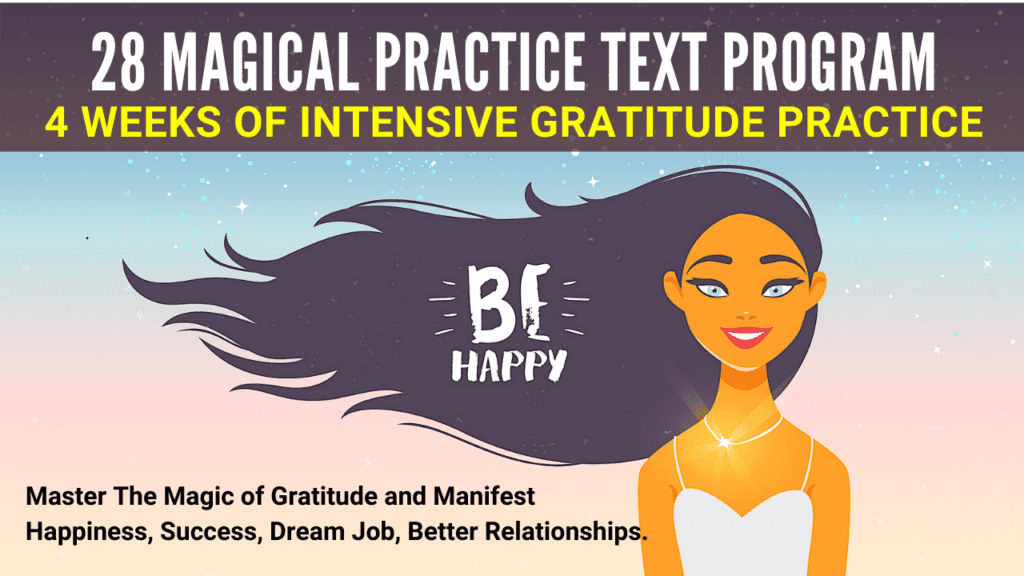 ---
Please share this post on Facebook, LinkedIn & Twitter.