Today, I am sharing the story of Ankit, a young professional from NCR and how his life changed with the Attitude of gratitude. He manifested more than he wanted in his professional life by practising and having an attitude of gratitude. He got his dream job, a higher salary than he asked for and a much better location than expected. His personal life has become phenomenal.
If you also desire to manifest your dreams like Ankit then do read until the end.
Having an Attitude of Gratitude is the true magic of life. Yes, gratitude is the simplest practice that can bring a massive change in your life.
So many people keep asking me "what is that one thing that I must do to make my life better?"
I always answer Cultivate an Attitude of Gratitude.
Practicing gratitude will not just make your life better, but it will make your life magical and phenomenal too.
Looking For A Dream Job
Ankit was a regular reader of this blog, but I knew him when he sent an email back in November 2014 asking "how can I manifest my dream job?"
I asked him to do two things:
Read the Dream Job post so that you will be clear about it.
To have an attitude of gratitude and practise gratitude in daily life.
He was clear about what he exactly want in the dream job, so it was not an issue for him.
At that time, he was going through a bad phase in his career and personal life too. In spite of knowing the Law of Attraction and the Secret, he was not able to use it in his life in an effective way.
He started doing gratitude for some time. After practising gratitude his life started getting better but far from magical. To build a strong attitude of gratitude he was looking for guidance.
That's when he asked me "AJ, do you have any program that can help me in practising gratitude or law of attraction in a better way?"
I introduced him to my life-changing program: 28 Magical Practice Course. This course cultivates an attitude of gratitude in participants life. This law of attraction has already changed lives around the globe, and now you can change yours. After reading many success stories and testimonials, Ankit decided to take a leap of faith.
The moment he read Prabhat's Dream Job Success Story he found his connection. With excitement, Ankit said, "AJ, I am ready to join 28 Magical Practice Course."
Taking A Leap of Faith with Attitude of Gratitude
He joined the November 2014 course and wrote me this email:
Hello Ajay,
Below is my story. I am sharing everything since I believe in the Law of Attraction. I want to incorporate it into every aspect of my life, and I want your help and guidance. I want to change my life for good, and I believe your course will help me do that. Now, this is my last attempt at life since I have tried everything that I could have on my end.
I belong to a middle-class family. At the beginning of my college days, I came under heavy negative influences from both my college friend and my family members.
After finishing college I did not get a job for the next 1 and half years, and that in turn made me a pessimist, lazy and negative person.
Then in the coming years, I started reading self-help books and trying to be positive and happy. That did not work because I always start with enthusiasm, but I never able to carry that positive attitude for a long time.
Then I can across The Secret and tried applying it. But the negativity around me was so high that I lost control over things and became even more hopeless.
Since the last four years, I have made some good friends and started applying the Law of Attraction, but it has been on and off. I am not able to continue it for a long time and not able to incorporate it into my day-to-day life.
For the last seven years, I am stuck in a job that I don't like. I am trying to change this job from last year. Though I am getting calls but not the kind of job, I want. My dream job is still eluding me.
My situation is somewhat like Prabhat, whose story you have shared on the blog.
I am again losing my confidence and with this negativity around me, it is affecting every aspect of my life.
So, the first manifestation I want from this 28 Magical Practice Course is to manifest my dream job.
I have listed what all I want in my dream job as per your advice:
– I am happy and enjoying working in my dream job at my preferred location, NCR.
– My job is exciting, flexible and full of learning.
– I am enjoying working in pure analytics environment as a Senior Analyst in the company.
– I love working in a multinational company that is sending me on a long-term on-site opportunity to UK & US.
– I love to travel all these new and beautiful places.
– My working hours are flexible and work for five days a week. I get paid for any extra work that I do.
– People at work are positive, happy, cooperative and friendly; I love working with all.
– The professional growth in the company is great. I am growing at a fast pace.
– I am receiving a big fat paycheck of 70000 INR per month, and I loved it.
– I get rewarded for my good work from time to time.
That's what I want as my topmost priority in life at this moment.
Also, I want to be happy, and I want everyone around me to be happy and fulfilled.
Looking forward to your guidance and help to magically change my life.
Thanks and regards,
Ankit
Ankit wrote this email to me with all his desire to manifest his dream job.
If you are also attracting your dream job or you have manifested it in the past, then you can relate to his story.
For next one month, he followed the 28 Magical Practice course cultivating an attitude of gratitude. Every day he was writing ten gratitude points about life. He was practising gratitude for every area of life.
Having an attitude of gratitude is life changing and research has found the same.
Harvard Medical School Research on Attitude of Gratitude:
Harvard Medical School did outstanding research on the impact of gratitude on happiness. They published a research paper titled In Praise of Gratitude.
In this research they found:
Gratitude is strongly and consistently associated with greater happiness. Gratitude helps people feel more positive emotions, relish good experiences, improve their health, deal with adversity, and build strong relationships.
The power of gratitude is proved medically.
After the completion of 28 Magical Practice Course, Ankit found himself highly positive.
But he was yet to manifest his Dream Job, so is it a failure that his attitude of gratitude couldn't manifest his dream job.
Well, that's not the real picture and Ankit has understood that well. He knew that the course and practising gratitude had built a life-long foundation of success and happiness for him.
He keeps practising gratitude and life got better with every passing day.
Finally, Attitude of Gratitude Magic Happened
A few days back I got an email from him with loads of happiness that show the fruits of his gratitude and patience has finally paid off.
You must read his email, and even he has outlined how his professional life has changed now. To see the kind of magic he achieved you can compare the list of success at his work now to what he desired that I mentioned before in this post.
Over to Ankit's current email with loads of success and happiness:
Hi Ajay,
Sub: Starting a new phase of life.
Greetings for the day. I joined your course in the November batch and did it faithfully. And I thank you and the course with the heart magic. :)
I was believing in the power of gratitude and positivity as I have told you before, but this course has changed my life. 28 Magical Practice has channelized the same and opened new doors for me in every aspect of life.
Things I have achieved from my desire list after finishing the course are as below:
1. Got not one, but two amazing jobs. Finally joining an international MNC and will be leaving India in May. Have taken a leap of faith, and I know everything is going to be awesome.
2. My paycheck is way more than 70,000 INR per month that I have mentioned in the earlier dream list, plus other perks.
3. Did not get the Senior Analyst as mentioned before in my desire list, but got the position of Deputy Manager. It is two-position ahead of what I have dreamt of.
4. Did not get the job in my desired location NCR but a far better place than that in a foreign location.
5. Gained the power to motivate others. People now respect me and see me in a completely different light.
Apart from all these materialistic desires, I have gained much more than that. I have gained a fresh perspective on life, and my personality has completely changed. Now I am excitedly looking for what next is in store for me by the Universe. :)
You always encouraged us to "Stay Motivated, Stay awesome" and that is what I am now.
Thank you very much. :)
Thanks and regards,
Ankit
Awesome, Magical and Totally Phenomenal Story. I loved it totally and if you see what he had asked for and what he has achieved is beyond that.
I believe that The Universe always gifts us more than we asked for if we have faith and gratitude. If we cultivate an attitude of gratitude along with inspired action we can achieve everything we want.
I asked for his permission to share his story on this blog. I believed that like him so many other people are going through a tough time in their career, and his story will inspire them. I believed you have found a super dose of inspiration from his story.
I bet you love to read his next reply.
Hi Ajay,
Of course, you can share my story. I will be glad if my story can inspire others to live their dreams.
I would like to say though I was preparing for a long time, things started manifesting when I was doing the course with you. After the course like the Chinese Bamboo Story you shared on the blog, I shoot up for my success.
Please share my story with everyone. After the course in the last three months, I have achieved more than I have achieved in the last five years. At least 4 – 5 of my top 10 desires are already fulfilled with happiness.
I will keep updating you.
Thanks and regards,
Ankit
Again a great insight from Ankit like the Chinese bamboo. He was practising the law of attraction for a long time and looking for this job but practising the course opened up magic in his life.
Expressing Gratitude
Join me in expressing unlimited gratitude to Ankit for sharing his phenomenal journey with us.
Thank you, thank you and thank you Ankit, we wish you massive success and unlimited happiness ahead of life.
If you can relate to Ankit's story, you should start practising gratitude immediately. Having an attitude of gratitude will bring phenomenal success in your life.
The way it works in Ankit's case for achieving career success, the same way it can work in achieving anything you want. Practising gratitude in your business, health, love life and relationship can create magic.
If you want a transformation like Ankit then join the 28 Magical Practice Course now.
If you have never tried Gratitude before then let me give you some quick ideas to cultivate an attitude of gratitude. Start practising them to witness success from today itself.
10 Easiest Way to Cultivate an Attitude of Gratitude:
Count your blessings in the morning. Count at least ten blessings daily.
Write A Thank You Note to someone else.
Thank someone in your mind daily.
Give gratitude in advance for whatever you want.
Be grateful for your job or career or your studies.
Be grateful for money or use money affirmations.
Be grateful for your health.
Be grateful for your love and relationships.
Before going to sleep review your day and be grateful for all the good moments.
Maintain a Gratitude Journal.
Start practising the above ten ways immediately to cultivate an attitude of gratitude.
If Ankit's success story has inspired you to the core do write your feedback in the comment section. Also, if you are going through the same do share your challenges.
Are you ready to change your life phenomenally?
Are you ready to experience magic in every area of life?
Are you ready to take your understanding of the Law of Attraction to the next level?
If your answer to all the above question is YES.
Then take a leap of faith and join today the 28 Magical Practice Course.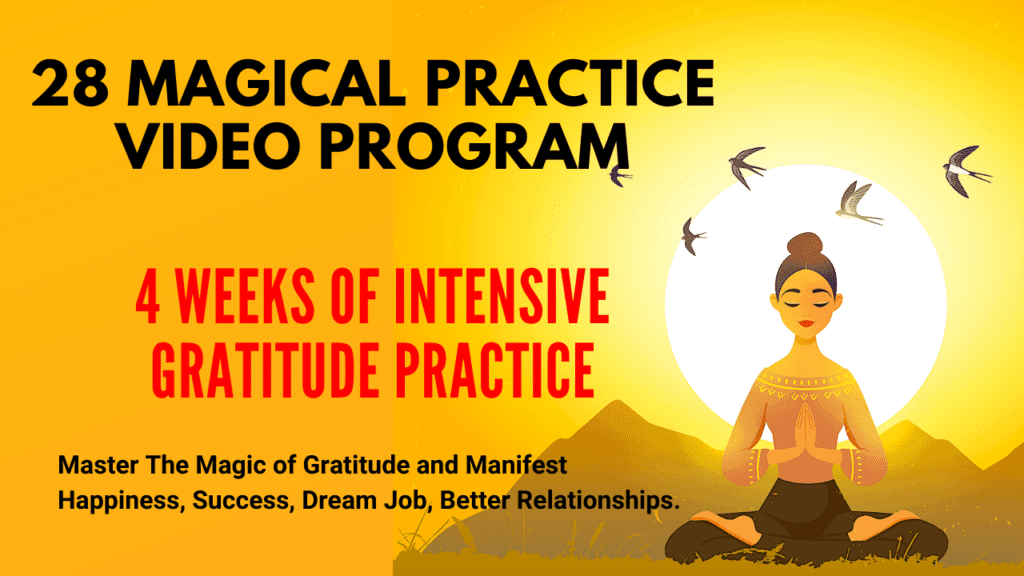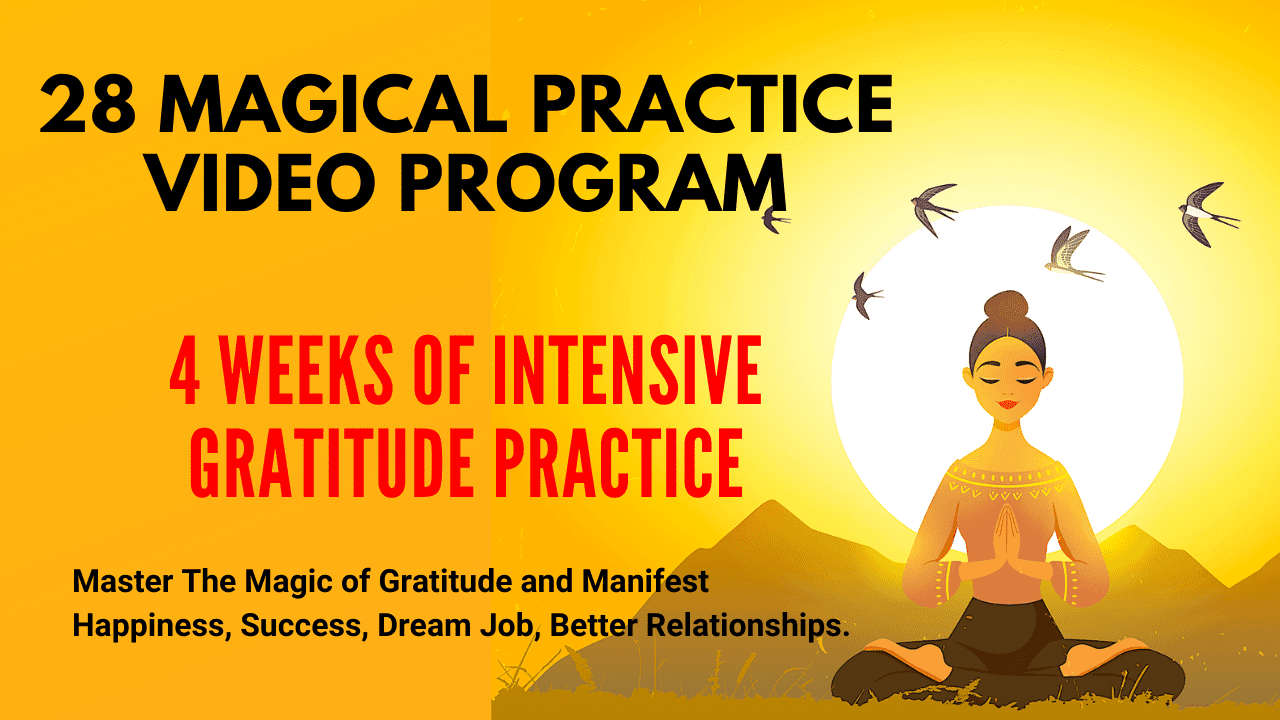 Thank you for reading Ankit's phenomenal journey and all the other success stories.
Love & Gratitude,
Awesome AJ
Law of Attraction Coach & Motivational Speaker