Decision Shapes Destiny.
I strongly believe this statement. Today I am sharing three decisions that are shaping my destiny.  One of them is starting this blog www.awesomeaj.com, which is now changing many lives all over the globe.
Today, I am not just sharing my story; I am going to share stories of two more successful bloggers. And how they are living their dreams.
At the end of this post, I have shared a video that you couldn't miss.
Last week, I got an invitation from Ahmed, one of the organizer of the Shout Meet, Hyderabad.  He said, "Ajay, we want you to become one of our speakers and share your blogging journey."
I said, YES.
Of course, blogging isn't something I have ever spoken of. My topics are motivation, inspiration, the law of attraction, subconscious mind and success strategy. I can talk about these topics for days and weeks. But I am kind of person who always ready to take an unknown adventure. And that way, I didn't give a second thought and said YES.
I went to the event and spoke about my blogging journey. I spoke about 'how blogging has changed my life and changing lives of many people around.'
In the Shout Meet, I met Harsh Agarwal and Pallavi Ruhail, today I am sharing their success story too.
If you are thinking 'what is Shout Meet?' Then here is your answer:
Shout Meet – A Blogging Community Development Initiative by Harsh Agrawal
Shout Meet is an initiative started by my good friend and one of India's most successful blogger Harsh Agrawal. It's a pan-India blogger meet he was organizing in a span of one month while taking a road trip all over the country.
Harsh is an expert blogger and sharing his knowledge and learning with people around for years through his blog. Now he took this journey all over India along with Sharat Nik to meet as many bloggers as he can and share his knowledge.
This was the best platform he has created for professional bloggers, beginners, and even wannabe bloggers. In the Shout Meet, the audience get a chance to learn about blogging and to network with fellow bloggers in their city.
You can read more updates on Shout Meet on Harsh's blog.
Here I am sharing success stories that I witness.
Harsh Agrawal – Massive Success as A Professional Blogger
Harsh is a professional blogger and he writes about blogging and SEO at his blog ShoutMeLoud. He is the pioneer in this space and doing it for more than 6 years.
Harsh has become a legendary figure in the blogging space and known as one of the top bloggers around the world and the most successful blogger in India.
After completing his Engineering degree in 2008, he worked in a call center for some time. And when he was about to join Accenture as a Software Engineer, he got caught with his passion for blogging. Once he started blogging, he got totally hooked up with it. He never joined the company and started his journey to build his own empire. In fact, he built a company of his own in the blogging space.
Now after more than 6 years of his journey, he is living a successful life being a blogger and his own boss. He regularly gets featured on most of the national newspapers and TV channels. Most importantly he is living the life of his dreams.
He is a very good friend of mine and what I admire the most is his spirit of taking the road less traveled. And the Universe rewarded him with the name, fame, and fortune. But above all the happiness that he has created for himself is indispensable.
Read more about Harsh's journey on his blog.
If you are interested in blogging or looking forward to starting a blog then you must check his blog. You will find everything that you need to know about blogging.
Pallavi Ruhail – Success Story of a Fashion Blogger
I met Pallavi at Shout Meet, Hyderabad. And her story is super interesting. She is a qualified Doctor and even she was practicing as one. But it's her passion for Fashion that has changed her journey forever.  And she never looked back after that.
Pallavi is now a very successful Fashion Blogger and writes her blog That Delhi Girl. She runs her blog like a celebrity and got tons of brand endorsement.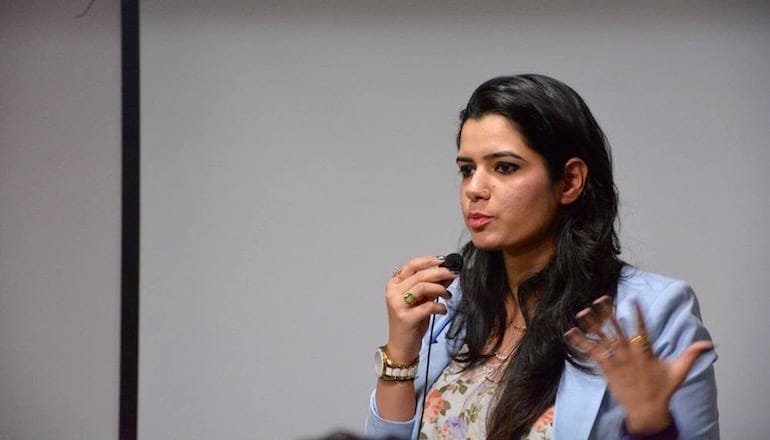 She shared a lot of insight on brand endorsement, getting sponsorship and use social media for growth at the Shout Meet.
If you are interested in fashion then head over to her blog www.thatdelhigirl.com and you will love it.
Ahmed & Mohammed – The Successful Start-Up Brothers
Ahmed & Mohammed Kaludi are brothers destined for success. They are running a WordPress Theme Company, MAGAZINE 3 here at Hyderabad.
I met them for the first time at this event and totally inspired by their dedication and energy. They were organizing the Shout Meet event at Hyderabad and their dedication to building this community was amazing.
I got super inspired by their journey so far and the plans ahead. They jumped into entrepreneurship even before finish their college and now they are completely immersed in it. They are highly passionate about their work and creating amazingly beautiful WordPress themes.
If you ever look for a WordPress theme then look no further than their beautifully crafted MAGAZINE 3.
And finally here is my Story:
Awesome AJ – My Story of Being An Inspirational Writer, Blogger & Mentor
Most of you are familiar with my journey and you must have read my post when I completed 2 years writing this inspirational blog. But well there is always more to share.
When I got this invitation to spoke at the ShoutMeet as a successful blogger, I knew that I am not going to talk about SEO or anything technical. Because all these belong to Harsh. He is the expert in it.
I decided to share my journey and I wanted to tell the audience 'how your decision and mindset is most important for any success'.
It's the decisions that we make changes our lives. Our decision shapes our business and life, same way decisions create a major impact on blogging.
I have a gift for you, I got a recording of my speech at the Shout Meet. Thanks to my bro Sanjay who was there at the event and recorded the whole speech.
Here are my 'Three Decisions that are Shaping My Destiny – Speech at ShoutMeet Bloggers Event
Subscribe to my YouTube Channel, I will be sharing more videos on days to come.
I believe the success stories of Harsh, Pallavi, Ahmed & Mohammed have inspired you.
I believe my speech has made a difference to your journey. Though in the speech I talked about blogging, it's more about the decisions we made and follow our dreams.
Like in blogging, no matter who you want to be and what you want to follow in life, you need to make decisions. And once you make the decisions you have to follow them with faith and motivation.
Once you follow your dreams the whole Universe makes the perfect arrangement for you.
Tons of Gratitude to Harsh for taking this pan India journey and building this bloggers community.
Gratitude to Ahmed & Mohammed from Magazine 3 for arranging this event and for inviting me as a Speaker.
And special thanks to my brother Sanjaya for being in the event and capturing my whole speech so that I could share with you.
Do comment if this post and my video have inspired you. And do share with others too.
Remember,
Decision Shapes Destiny.
Live your dreams.
Love & Gratitude,
Awesome AJ
Law of Attraction Coach & Motivational Speaker
Please share this story on Facebook, LinkedIn & Twitter.