Our anxiety does not empty tomorrow of its sorrow but only empty today of its strength. – Charles Spurgeon
Most people believe that stress and anxiety become a part of our modern life.
If you think so, then you forget that 'you are the creator your destiny. And by changing your thoughts, feelings, and actions, you can change your life.'
Always remember –
"Whatever the mind can conceive and believe, it can achieve." – Napolean Hill"
A man can change his life by changing the way he used to think, feel and act.
Today I am sharing the Story of Meihol Javeri. Meihol is an IT Businessman from Surat. Today he is shining high on success and creating a magical impact on everyone around. But he was not this Magical Meihol two years back.
In his story, Meihol is sharing how did he overcome stress and anxiety to create a magical life.
He followed the Magic of Gratitude and the Law of Attraction to claim his success, happiness, professional recognition, free vacation, getting admission of his son in one of the best of college and buying his dream home.
Here is Meihol's story in his words.
Meihol's Story: Overcome Stress and Create Success for Yourself!
I am sharing my story from my early twenties when I started my professional life.
# Ambition leads to Anxiety
Like everyone, I also have many dreams in life. Starting from getting professional recognition to loving relationships, making money to building properties, achievements and much more.
I am not a very studious person from the beginning but I am a techno-savvy. I never get worried about the future, but I love doing my work as my work is my passion. Time went by, I got married, and demands arise in my life.realiseize that many things are not in abundance including money and work. Slowly worry, anger and negative thoughts became part of my life. And I developed this habit of thinking negative before starting any work.
I had positive ambitions but never knew that how powerful negative thoughts could be. And I kept on getting into the whirl of negative thinking, stress, and anxiety.
# Looking For A Solution – Understanding the Magic & Law of Attraction to Overcome Stress
As years went by, my business was growing, but the stress and anxiety were also growing at a faster pace. At the peak of my stressful life, I understood that it would be very difficult to live a life like this.
I started looking for a solution. I have tried astrology, numerology, vastu, and many things to overcome all these negative issues of life.
Whatever people around me advised me I followed that. But nothing was working, and life was becoming tougher by every passing day.
25th Jan' 2014 was the day I remember from where my Magic journey started with AJ.
Thanks to Facebook, I have found AJ – Awesome AJ. I started reading his posts. In the starting, AJ was posting day wise exercise, and I was trying it, and I started feeling better and getting a small amount of result also. But I was not sure that something is there on the Magic. In due course of time, I watched the video "The Secret" but couldn't believe it completely.
I was working like a labor in my business so how can I believe that by changing my thoughts I can achieve better success.
Finally, I decided to take AJ's mentoring and guidance.
# Taking The Magical Leap of Faith
I don't remember the exact day; it was December 2013 I called up AJ and shared my problems with him. Then on 25th Jan 2014, I started the 28 Magical Practice Course under his guidance. Though I was negative at the beginning, had a HOPE OF DOING SOMETHING GOOD. When I joined the course, it was very hard to write all the dreams, blessings and even feel grateful.
As days passed one after another, with AJ's support and guidance on my every obstacle I started seeing change. Every day I used to feel so low that can't even read the 28 Magical Practice email completely. Those emails sent by AJ looks like radio talk to me. I tried my best and pushed myself to read the emails and do the magic exercises.
I have tried, but my mind was not supporting me to do it.
I shared my challenge with AJ. And he said if you can't read the details then, at least, do the exercises on a daily basis. I asked him "I can't even write a journal", then he said, "write it on your mobile notepad/tab or laptop." AJ told me "do whatever you can but never give up because this magic is going to change your life." It was a big motivation for me.
Practicing self-appreciation gave me time to explore myself. And counting blessings daily help me to find good things around me and in my life.
# Achieving Success after Success
As I started doing the practices, I started feeling great. And that's when Magic started happening in my Life.
 – Getting Recognition in Business & Free Trip to Goa
My first dream was to get recognition in life…..
While I was doing the 28 Magical Practice course, one day I got a call from EPSON India with a magical opportunity. They said, "you are our Independent Software Vendor, and you are promoting our products since 2003 so we offer you to join our annual program in GRAND HAYAT, GOA, and you will be awarded a Certificate of Recognition."
I was surprised and so happy that it made me cry.
For the trip I got FREE Air tickets, three days stay in 7-star hotel and a celebration party and a certificate of achievement.
My company was shortlisted from all over India's ISV partners of EPSON.
Now, I came to know that its all about magic and it works as per my requirements just I have to drive my mind and demand the universe what I want to have or to be.
Most important surprise after this is that my wife has also started the course, and we have started sharing our dreams and focus on it jointly.
 – Getting My Son Admitted to the Desired University
Our second dream was admission for our son in a recognized university in my city………..
You won't believe my affirmation was so strong, and I believed in magic that I have only applied in that university only and fixed the course nothing else. No, try for other university or college also.
He got admission in 4th Round, and he is now in his 3rd Semester and his grades have also improved.
– Manifesting My Dream Home
Our third dream was to have a big house.
The first challenge for me was to sell my old house and add money then buy a new one.
In October' 2014, at my home during Diwali, we started thinking about it jointly and started doing affirmation with all descriptions of flat such as how it should look, what should be the directions and every possible detail like 3bhk, sqft etc.
We were trying to sell out the old house since 2008 but have no strong will nor sharp vision for future because we could not dream what would be next after sale.
We got a buyer in JAN'2015, via my friend so no brokerage, then we started a daily search of a new flat in a new area and settled down in our Dream Home in March'2015. When I sold the old house, I have to add a large sum of money, but I started working on it so deep from my heart that I got the best deal for my new home. My daily blessing counting and self-appreciation have started giving me the power to get loan and money.
From JAN'2015 to Mar'2015, I have filled a magic of relationship, like every known person, relatives everyone has started to help me in buying or selling of my flat.
You won't believe me but, my buyers' loan was near to rejected as my old house plan were not proper, I started affirmation and contacted related persons in the corporation, and I use the affirmation that "today I will get the plan and will get the cheque from the bank." I was totally dedicated to this affirmation and said Thank You in every step….. It worked magically.
I got the plan copy same day and when I went to the bank through one known person there. It was my first visit for my buyer's loan, and it worked. To my surprise, He processes the loan very quickly, I did not know that who is there in Bank, but It's MAGIC !!
We never know when and where circumstances changed….We only believe "What you think You will get."
I got loan approval letter from my buyer.
My life has changed magically.
MY JOURNEY CONTINUES WITH The MAGIC & Awesome AJ
# My Learning from this journey of Overcoming Stress to Achieving Success
I would like to share my outcomes from this journey that
Practice Self-appreciation and counting your blessing is very powerful. Always do it.
NEVER GIVE UP on Your Dreams!
Dream – Plan – Succeed.
Put your heart, mind, and soul into even your smallest acts. This is the secret of success.
Nothing is impossible, the word itself says 'I'm possible'!
If opportunity doesn't knock, build a door.
Start by doing what's necessary; then do what's possible, and suddenly you are doing the impossible.
Most importantly do the 28 Magical Practice Course with AJ. It's the best investment you will ever make.
I would like to thank you all for sparing time and reading my success story.
Never doubt in the Magic of Gratitude and the Law of Attraction.
I am immensely grateful to AJ – Awesome AJ for guiding, mentoring and inspiring us all the time. And most importantly creating the 28 Magical Practice course. I started my journey with him in December 2013 and since then my life has become a living example of the magic.
Thank you, everyone, for reading my story and thank you AJ for giving me this opportunity to share my journey.
Thank You, Thank You & Thank You,
Meihol Jhaveri
**************************************
WOW! What a journey Meihol. Immense gratitude for sharing your journey with all of us. I believe your story has inspired everyone who is reading it.
Overcome Stress and Achieve Success Like Magic
Now it's your turn to take your life ahead and create success. To some extent everyone face stress and anxiety in life. When we dream big, we face big obstacles also. But we need to align our thoughts and feelings to create success and happiness together.
You don't mean to live a life of stress and anxiety. If you are living in stress and anxiety, then take action today and change your life.
Always choose positive thoughts over the negative ones.
Always choose gratitude over fear.
Always choose possibilities over pain.
Always choose success and happiness over stress and anxiety.
Like Meihol and thousand other dreamers you too can start your journey today with the Magical of Gratitude. Register today for my powerful 28 Magical Practice course.
If you have a life-changing experience with the Magical of Gratitude, share it in the comment section.
Wishing You A Magical Life Ahead.
Love & Gratitude,
Awesome AJ
Law of Attraction Coach & Motivational Speaker
---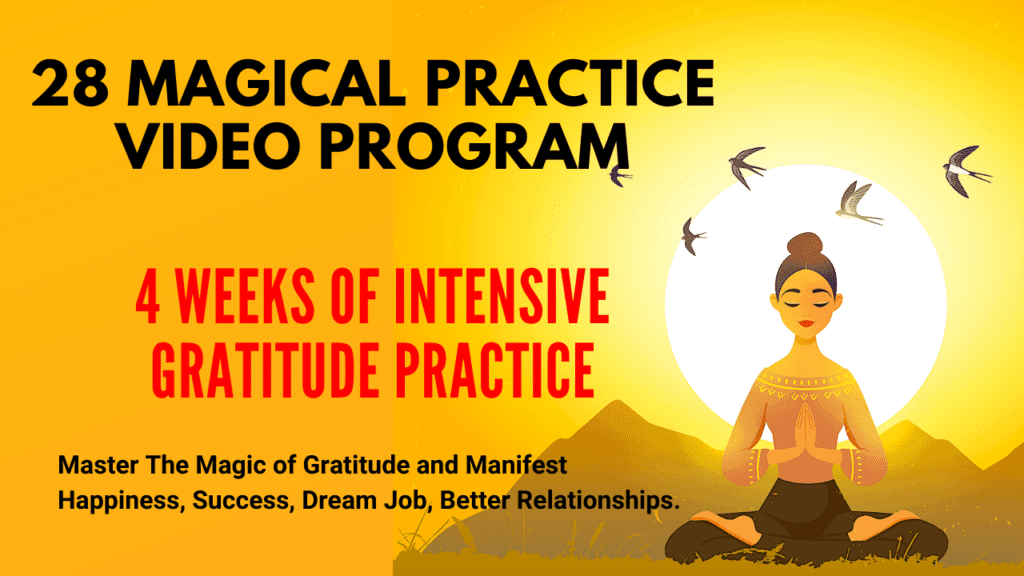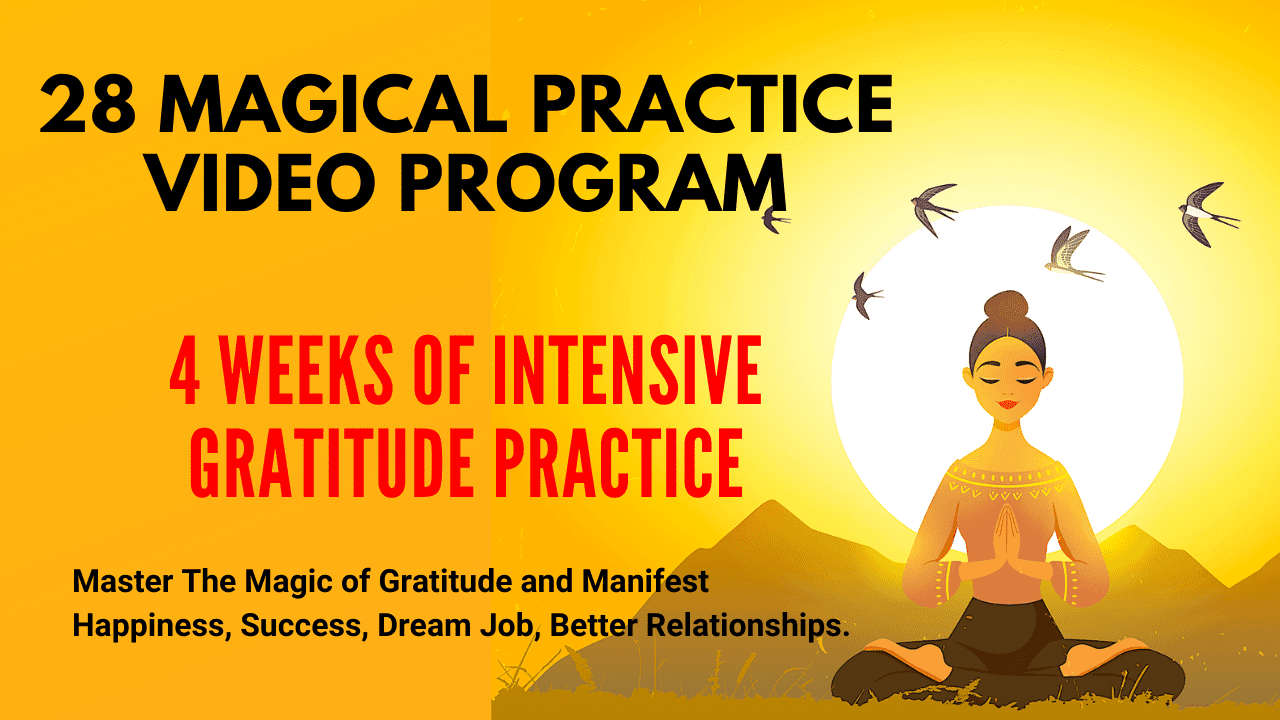 ---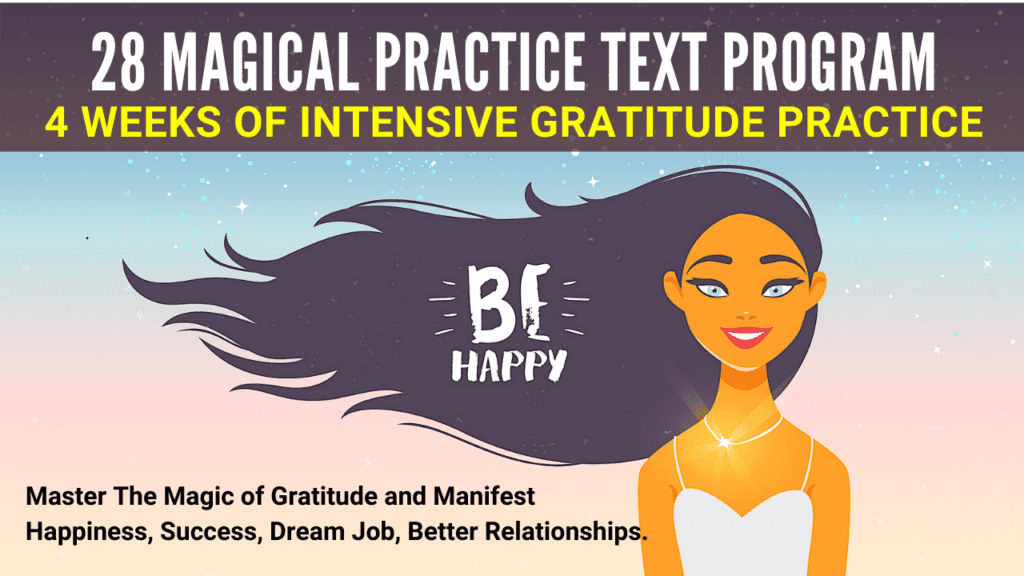 ---
Please share this story on Facebook, LinkedIn & Twitter.