Who wants to win a Free Business Class Air Tickets to Europe?
Do you believe that you can use Law of Attraction to manifest it?
Well, before doubts pop up inside your mind, let me tell you it is POSSIBLE.
As you know, in Law of Attraction "Whatever you believe, you can achieve."
So rather than doubting it, better you should believe in it so that you will manifest your magical journey to Europe.
And here is a Magical Story from Tanuja on how she manifested Free Business Class Air Tickets to Europe. I believe this story will reinforce your faith in the Law of Attraction. This story is not just about these free tickets but more about understanding the Magic Cues from the Universe and how to respond to them.
Tanuja did our 28 Magical Practice Program last year. And ever since she is practicing the Magic of Gratitude every day of her life. Always raising her level of happiness and gratitude and manifesting abundance.
In October 2016, she wrote to me an email asking about Magic Cues and which leads to this story. So let me share our conversation and her manifestation in the process.
Tanuja's Success Story of Understanding the Magic Cues and Winning Free Air Tickets
Q: Tanuja's Question (in October 2016)
I have one question if I am receiving insights, cues, how to respond to the Universe? What actions I have to take? Can you please guide me
Thank you so much, with lots of gratitude to you and the universe all the time.
W. Regards
Tanuja
A: My Reply to Tanuja
Hi Tanuja,
When you get some cues, the first thing you have to do is to be grateful and say THANK YOU UNIVERSE FOR MAKING THIS DREAM OR WISH COME TRUE.
If any person involved in your cue then bless them for living that life or bringing that cue into your life.
If you get some impulse to take some inspired action for your dreams then take it. But there are certain situations when you can't take action at the moment. In such cases, just be grateful and give blessings. That is enough.
Let the Law of Attraction and Magic of Gratitude work for your manifestations.
Tons of magical power to you. Keep updating about your journey.
Thank You,
AJ
And After a few weeks, I got an amazing email from Tanuja with her new super magical manifestation and transformational story.
Tanuja's Magical Success Story using the Law of Attraction
Dear Awesome AJ,
You are really awesome, I am really happy today; I won Free Air Tickets (Business Class) to Brussels and return for 2 persons.
Everything was going wrong since morning, I thought not to go for this event (where I won these tickets). Then I remember your words to take inspired action. I selected my dress at the end and went for this event; eventually, I am the one who WON the tickets plus FREE stay for 3 nights in the best hotel.
As I told you before, I have my dream to live and work in Belgium and winning this FREE Trip is the best cue for me that now my dream life and dream job is coming true. Now I have more faith that my journey towards my goal, my dream job in Belgium and everything is well connected.
I am writing all cues I am getting every day in my journal and try to figure out how it is linked to my dreams. Then the most important are guided by you is showing and feeling gratitude by heart. Magically you know, even small things when I gave up after a lot of efforts starts working magically in my favor.
Always this universe has the best things to offer us and I believe, when we just listen to everything carefully, make ourselves more connected with the Universe, we get clarity and manifestations happened.
I was observing some butterflies I a different color, mostly yellow ones very often now a day. Some tries to come till window, and then that makes me alert and they go away, I take these as a cue for my dreams and tried to figure out the meaning by each color and it's so motivating.
Dear awesome AJ, all my magical dreams are really speaking to me. Like I am always looking, focusing and believing in my dreams. And whenever I am down, I try to motivate myself even with some best moment and tries not to give up or divert my focus from the direction I am moving towards.
Now I can find myself very different from others, standing tall in every moment and believing in myself and in the Universe more than anything in this world.
There are plenty of things I can write, but right now running out of time, because of my professional work.
See you soon. Lots of gratitude to you and Universe.
W. Regards,
Magical Tanuja
———————————
This magical manifestation story of Tanuja speaks about the infinite possibilities in the Universe.
The Law of Attraction and Magic of Gratitude is not just helping people to manifest their dreams but also helping so many to heal themselves from chronic negativity and health issues.
While I was writing this post, I got this testimony from Cory in one of our post about the 28 Magical Practice Video Program.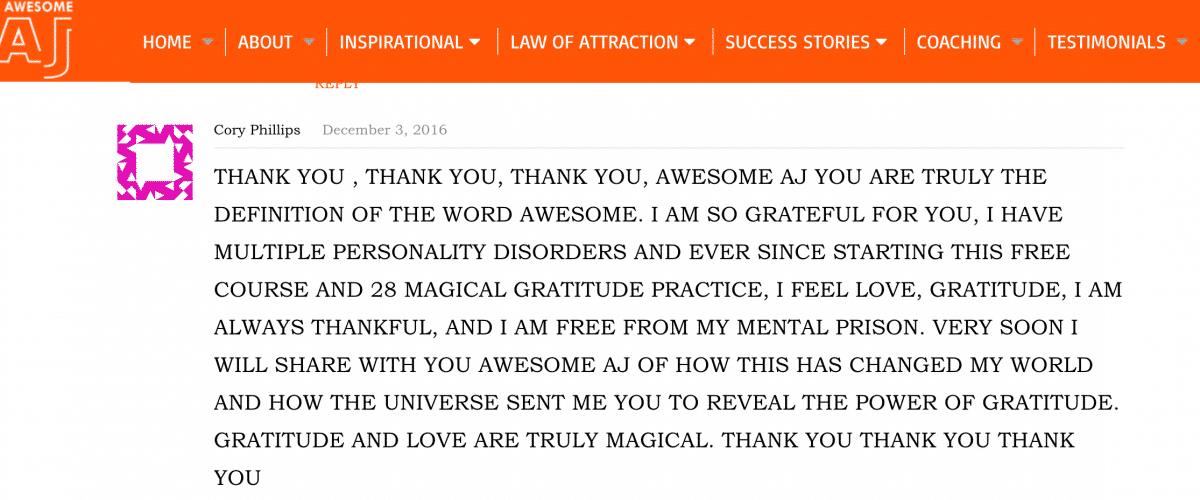 Live your dreams, manifest miracles and create magic.
Love & Gratitude,
Awesome AJ
Law of Attraction Coach & Motivational Speaker
---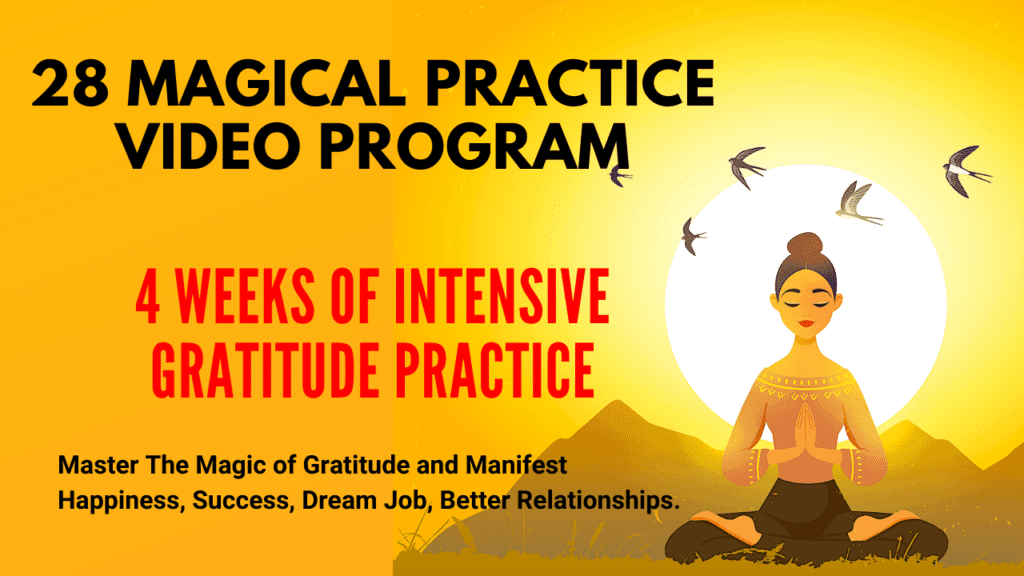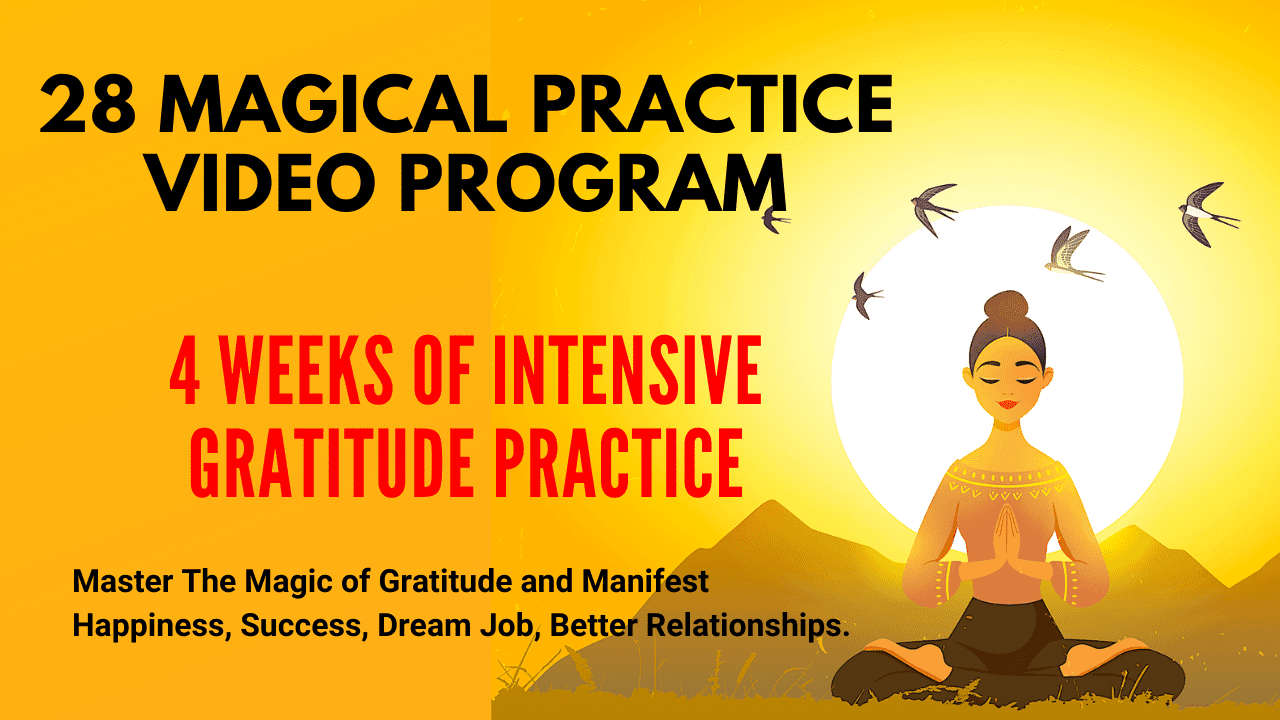 ---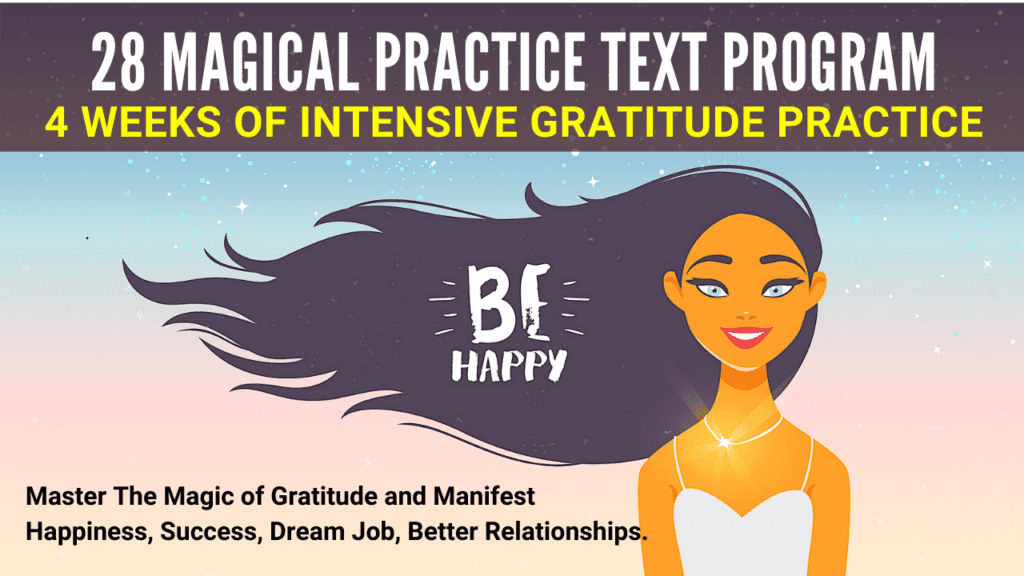 ---
Please share this post on Facebook, LinkedIn & Twitter.