"Gratitude is not only the greatest of virtues but the parent of all the others," wrote Roman philosopher Cicero. Gratitude practice is more than a spiritual practice, it actually nurtures our mind, body, and soul.
I discussed several times the benefits of gratitude through my blogs. You may like to read them by clicking here. There are articles, success stories, videos etc. on various aspects of gratitude.
So we directly dive into some success stories shared by magical people from all over the globe.  So here we go.
Law of Attraction Success Story #1: Happy Relationship by Nelly from Germany
Hello AJ, I just want to say how blessed I am to have joined this course – 28 Magical Practice. It has made me see things in a different way.
I now enjoy nature and appreciate it more than ever. I have learned to be grateful for even the smallest things in life and not to take things for granted. I am more positive and happy. I didn't know how much negative thoughts affect my life and emotions. And how important it is to go to bed and wake up a positive person. All this has even changed the relationship with my partner.
I now concentrate more on his positive side and appreciate everything that he does to make me happy. I used to be so insecure and unhappy when I think of his past habits which weren't good. And it affected me emotionally and I ended up starting a fight and looking for all the wrong reasons why I shouldn't trust him. But now my life has drastically changed and every time such thought comes to my mind I find all his positive sides and look for what I can be thankful for in our relationship. I enjoy life more.
I am grateful to have saved my relationship from breakup and unhappiness. I am really grateful for this journey. I will start again the whole journey once more so to make it a habit. God bless you.
---

---
Law of Attraction Success Story #2: Magical Opportunity by Malubo from Malawi, East Africa
When I was starting learning this course my mind was full of negative thoughts. Negative thoughts that were created because I was not enrolled at my favorite university in my home country Malawi.
When I was in the middle of this course my subconscious mind starts to develop a positive attitude towards everything and I started using positive affirmation towards my favorite university. Like 'I DESERVE TO BE AT THIS COLLEGE, I AM WORTHY TO BE THERE.
One month before the opening of this my favorite university the chance was created from nowhere (magical opportunity) and I was enrolled at this university under self-sponsored and it happens that the university took me on my dream course – DEVELOPMENT ECONOMICS.
Zillion of Gratitudes to the Universe for this lifetime opportunity.
Thank you, God bless you Awesome AJ for the good time you spend with us by sharing the word of wisdom.
---
---
Law of Attraction Success Story #3: Getting Desired College – Success Story from India
Before starting my 28 days journey with Awesome AJ, I had told him exactly why I had joined the program and what I was expecting out of it.
I am a 17-year-old in the process of convincing my parents to send me to the UK for studying Architectural Design. Due to financial troubles, it was hard for me to talk to them clearly. By the end of the course, I had somehow confidently spoken to them and told them which Indian colleges I prefer too. My parents are considering UK for which I shall apply soon, and I also got into a reputed Arch school in Pune.
Life has never been so kind. Thank you Awesome AJ and Thank you universe for all that I have today and for all that is to come. Lots of love and gratitude!
---
Law of Attraction Success Story #4: Getting A Job through Gratitude Practice by Madhusudan from India
Dear AJ,
As I promised here is a good news, guess what?
I GOT JOB in CBT  infotech(for Vodafone client), me to join by tomorrow.
I am extremely happy, Gratitude practice works with so speed, everything arranged in just  24 HOURS, Situation changed from Negative to positive. This is the power of Gratitude and belief. Thank you so much for your teaching.
God Bless you!
With tons of love
Your friend,
Madhusudan
---
"A grateful mind is a great mind which eventually attracts to itself great things." — Plato, a famous Greek philosopher.
Be grateful for everything and everyone every day to make your life magical.
Love & Gratitude,
Awesome AJ
Law of Attraction Coach & Motivational Speaker
---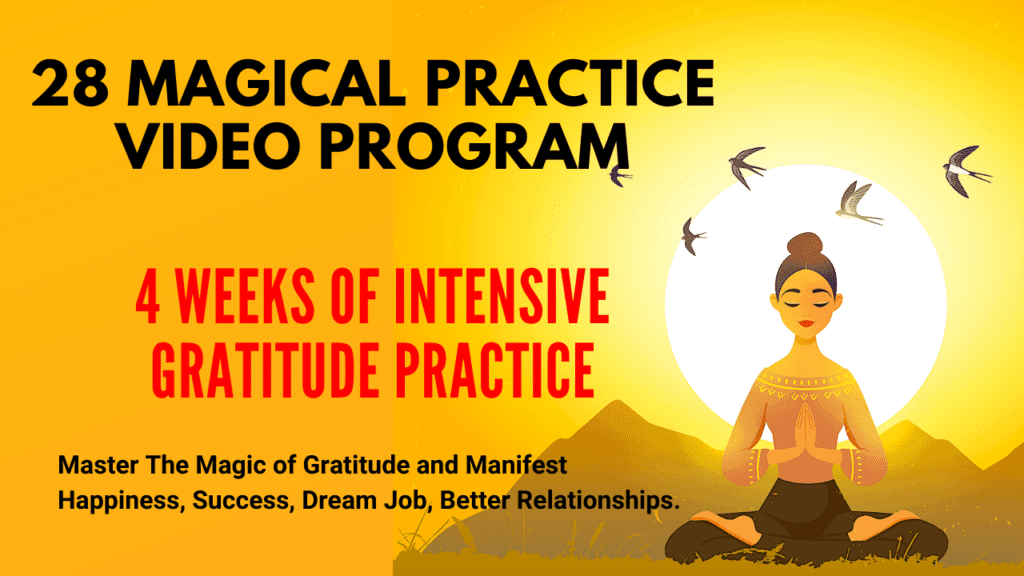 ---