Are You Attracting Money using Law of Attraction?
Are you using the law of attraction to change your financial condition?
Are you ready to manifest more money than ever before?
If your answer is YES to the above questions, then today's Money Manifestation Success Stories will definitely inspire you to the core.
You must remember that you DESERVE to live in Abundance of Wealth, Luxury, and Prosperity. However, to attract all the abundance into your life, you must remove your Old Limiting Beliefs about Money and build New Positive Beliefs to Become A Magnet for Wealth & Prosperity. 💰💴💵💶💷💸💹💰
It means you have to remove Old Abundance Blocks and Raise Your Money Vibration.
---
Attracting Money Using Law of Attraction – 5 Success Stories You Must Read Today
Money is an energy and if you focus on it happily and positively then you can attract it easily. The following five stories are the true testimony of the Law of Attraction.
#1. Raise Your Money Vibration and Money Flows To You In No Time – Mr. Arunn's Manifestation Story
Thank you Awesome AJ for this wonderful Money Vibration Programme. This is the second time I am doing this programme. Second time is really an eye-opener and has thrown more light and a deeper understanding of the concept. Most of the activities are unique and excellent result oriented. Though the activities are simple but it is very powerful when done with understanding and involvement. The success is guaranteed when done with faith and belief. No matter what the situation might be when focused on only positivity on money it is true the money flows. I had too many commitments at a time alteration of my house, foreign trip, new insurance proposal and much more and due to this I was in cash crunch and things weren't happening as planned but I was only focusing on the positive side of receiving. I got two tenants for my house and the advance and other incomes that got generated made me overcome the situation effortlessly. Thank you thank you thank you awesome AJ the 'Raise Your Money Vibration' is truly awesome. My gratitude to you for the success. Thank you, thank you, Thank you.
---
#2. From Making Loss To Customers Flooding My Shop – Ganesh's Business Success Story
No need to worry about the current situation. I am seriously so grateful to our mentor and guide AJ that he has already changed my mindset about money. I have experienced a lot of change into myself. I am owning a business and since few months I was facing loss in my business. No customers were visiting my shop until yesterday. I started WEALTH AND SUCCESS activity in morning and also did the affirmation with all positive thoughts and firm beliefs. And I am seriously so grateful that all the customers I thought about started visiting my shop and started buying products in my shop and also found many new customers visiting. I seriously felt the money magnet vibration inside me at that time. After reading each and every person's experience I got more confidence and belief that we can seriously transform our life by changing our mindset. I am so grateful to the universe that I am a part of this group full of positive people. After all your life also depends on the type of people you would like to surround with.
We all are money magnets.
We all are prosperity magnets.
We all are abundance magnets.
Thank you. Thank you. Thank you.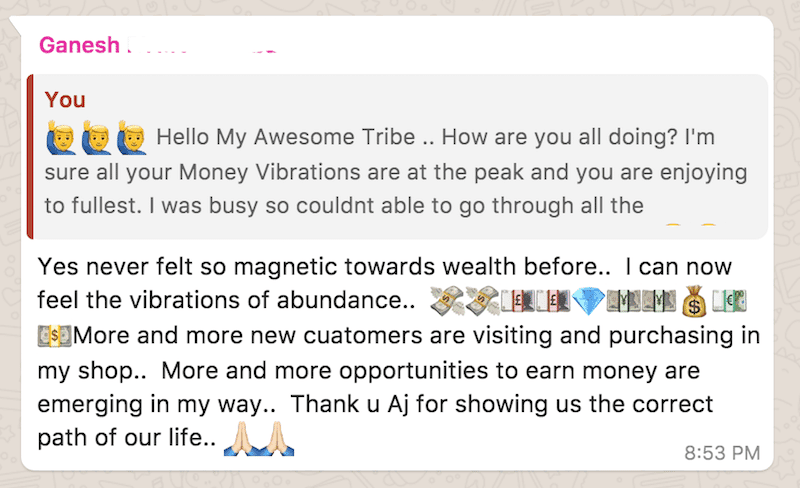 Yes never felt so magnetic towards wealth before. I can now feel the vibrations of abundance. 💸💸💷💷💎💴💴💰💶💵More and more new customers are visiting and purchasing in my shop. More and more opportunities to earn money are emerging in my way. Thank u AJ for showing us the correct path of our life. 🙏🏻🙏🏻
---
#3. Four Years of Waiting Came To An End, Got Exact Salary Increment I Desired– Anjali's Salary Manifestation Story
Hi All,
This Raise Your Money Vibration really helped me a lot.
For past 4 years I was struggling to get my desired increment in my salary and yesterday my boss gave me the exact amount what I wanted during this year appraisal.
Thank you, AJ for this program.
---
#4. Unexpected Money Simply Falls Into My Lap – Pooja's Money Attraction Story
Thank you, thank you, thank you AJ for this awesome program. After doing your 7 Days Free Course I saw the Raise Your Money Vibration program Ad on the website. That time my bank balance was below minimum balance so I commented on your page that I'm going to manifest money so that I can take part in the program. After 2 weeks my mom asked me to check my bank balance. When I checked my account balance I really got shocked. My account was credited with 1,27,000/- Rupees. It was some money back policy which my mother took in my name long before. During that time I was using vision boards. In one vision board, it was written as "Unexpected Money Simply Falls Into My Lap" and same happened in my life. I was so happy & grateful. While checking my emails I got your mail and I saw the program Ad again. Then I realized I have the money to join this awesome program and thus I manifested my dream to be a part of this program. Thank you thank you thank you for strengthening my beliefs. In future, I will come up with my manifestation success videos😊😊😊.
Lots of love & gratitude to you.
Pooja
---
#5. Manifesting New Avenues of Income – Lovelesh's Income Success Story
I participated in the Raise Your Money Vibration (RYMV) program. It's miraculously mindblowing. The magical affirmations are wonderful, in which 2nd affirmation to find new avenues of income. Literally, I found a part-time job at Mcdonald's Fast Food chain Restaurant within 21 Days of RYMV program. Now, I am continuing my part-time job with my full-time job as well.
I am trying to raise the vibration of money and still, it's increasing gradually. I feel good and happy. My present and future fulfill with abundance and prosperity.
ThankYou @Awesome AJ
Loads of Gratitude.
I always want to touch through Facebook.
---
---
I believe these five stories have definitely inspired you and set you in the motion of Attracting Money using Law of Attraction. It was never so easy to raise your money vibration to a level where manifestation started happening at super speed.
If you are ready then take inspired action now and join the Raise Your Money Vibration Program.
Mr. Arunn, Ganesh, Anjali, Pooja, and Lovelesh has already manifested money, business success, unexpected income, salary increment and new avenues of income. And they are in the flow of attracting more and more money using Law of attraction.
Now it's your turn because you deserve to live in Abundance of Wealth, Luxury, and Prosperity.
Raise Your Money Vibration Today!
Love & Gratitude,
Awesome AJ
Stay Motivated, Stay Awesome.
If these Manifestation Stories have inspired you then share this post on Facebook & LinkedIn.