How does the Law of Attraction work for outer transformation along with inner transformations?
We have shared with you how we can use the law of attraction to manifest dreams, desires, and goals and materialistic manifestations in life. Today you will get an insight on how to use the law of attraction techniques to change your physical appearances, may it be weight reduction, skin improvement, better complexion or getting over any skin disorders, etc.
Your physical appearances especially any ailments or disease or disorders are mainly caused when you are not in balance with your emotions and exterior factors in your life which keep affecting your mind consciously or subconsciously.
Moreover, when the symptoms appear we start thinking adversely and start having negative self-talk, keep worrying, and make those our dominant thoughts. Remember how the law of attraction works? Wherever your focus goes energy flows and you tend to attract those in your life. Your self-talk is a conversation with the universe & obviously with these negative self-talk you are more likely to get what you fear of or do not want in your life.
---
How to work with the Law of Attraction to Make changes in your appearance
We cannot emphasize how Gratitude is important in practicing the law of attraction. When you are grateful for your present situations in life however bad you may be feeling right now, still, you tend to find positives in the negative situations and be grateful for how much ever little you have, Universe will work in your favor (You can learn more about Gratitude in our program 28 DAYS MAGICAL PRACTICES which helps in manifestation of your goals using the practice of Gratitude).
If you have scars & pimples and you are constantly feeling low and depressed you are attracting more of it. Instead, when you start giving love to your skin every day may be in the form of simplest activity of affirmations like "I have beautiful skin and the scars & pimples are diminishing day by day" you will start seeing changes in a few days. You may even touch your face and the place hands where you have these scars and pat your skin with love and affirm. Also if using medications, it doubles the work.
If you are dealing with weight gain issues you may start loving your body the way it is and constantly working on self for yourself not to please others, you will see how magically you transform. When you stop comparing and do it with self-love you are more likely to achieve your body goals.
The same way we can use the simple activity of visualization for achieving all the desires in inner as well as outer transformation. Visualization is one of the most powerful tools in the law of attraction practices (To learn more you may join our Transform Your Destiny program).
You may use visualization for the change of appearance you want and work towards it taking the right decisions and consistent work on self. You will have to accept yourself fully and love yourself to the fullest to make yourself the greatest version of you.
Mansi's Success story of Transforming Her Physical Appearance
Today we want to share the story of our Awesome Tribe Member Mansi who has changed her appearance using the law of attraction as per her desires.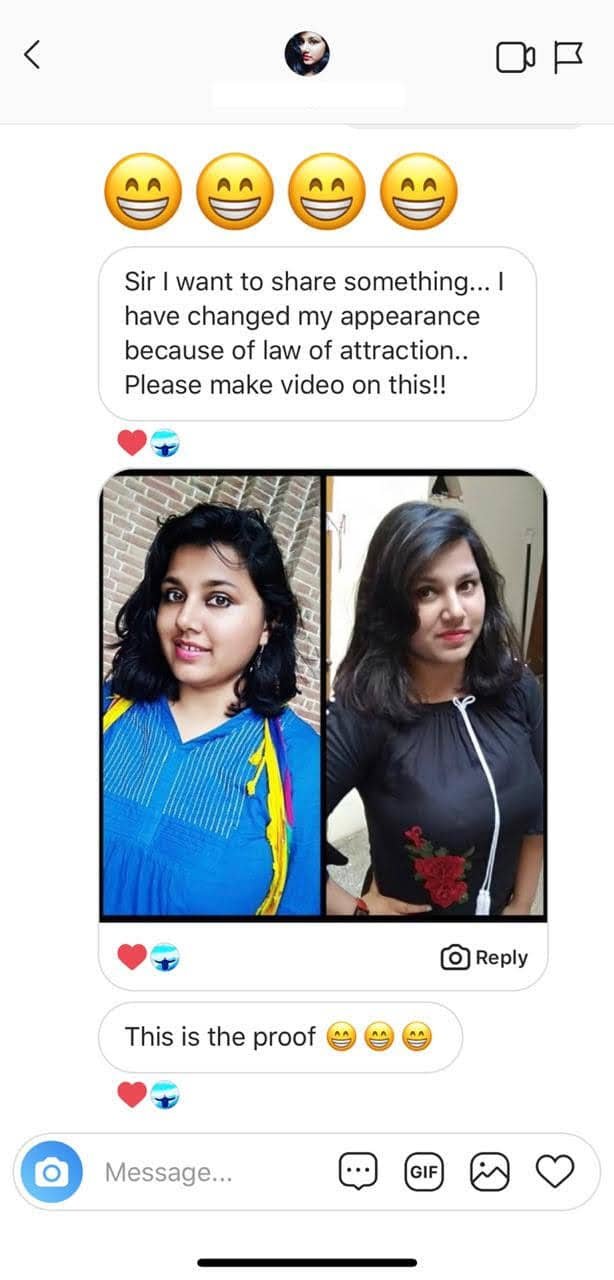 Here is her complete story:
Dear awesome AJ
Thank you so much for changing my life.
My Name is Mansi, I live in India.
So here is my story :
I used to be chubby (please call me fat) I spent whole childhood in cursing myself (especially cursing my features, looks, and body structure). I wasn't confident about myself, and my favorite teachers always observed that she has no confidence.
The reason was people used to make my fun like how I look. It made so sad and depressed. And the same thing I realized when I enter college and I heard some bad comments about myself like "look at her! She looks horrible in insta pics (Instagram photos)."
After that, I came into my room and started crying like a kid and I was crying in front of a photo of Lord Shiva and I was saying "you made my life hell, everything is not as I wanted". (actually, I was desperate about the things that I wanted in my life, I didn't have so I was crying) at night before going to bed, I was watching vlogs. An interesting thing happened that a post came in front of my eyes about telepathy (it was a post of Awesome AJ). I found it interesting, I searched more and I came to know about the law of attraction (life-changing moment). I didn't trust the law of attraction at first but I thought I should try, then I tried. Visualization was kind of tough for me because I used to think so much and I couldn't be focused on one thing. I started writing in a diary that "I'm getting beautiful day by day and people have started complimenting me." I have been 2 or 3 months that I'm writing every day. And just like magic people have started complimenting me, even my one friend was too astonished, he asked, "have you done plastic surgery?" and I laughed and said "no but law of attraction." I get complaints every day and its magic. I don't believe how I have started doing exercise, taking care of my skin. It's happening automatically, I don't know HOW Because I used to be very lazy but I will say it is the law of attraction. I changed as a person. A girl met me in August and she met me in November (same year). She didn't recognize me at first after that she was shocked when I said "it's me, we met in August." she was amazed by my looks. She complimented me about my looks. So whenever I think about my big dreams (which isn't happening right now but will happen soon) I look at my old picture and look at myself in the mirror I say to myself  "if this can happen, so my dreams will accomplish." This means if I can change my appearance, so my dreams will Also accomplish.
I'm saying thank you to you Awesome AJ (you are super awesome). Million times thank you to you. You have changed my life. And I also share your posts with my friends.
Thank you!!
Have an awesome, amazing, and wonderful life!!
---
We congratulate Mansi for her manifestations and her internal happiness after transformation. Now she is a confident, happy, and healthy person.
We wish to hear more such transformation stories from our Awesome tribe members for inspiring others and help them in their manifestation journey.
Love & Gratitude,
Awesome AJ
Stay Motivated, Stay Awesome!
---
---