Law of Attraction Works Wonderfully
The Law of Attraction can work wonders for you. It helps you to find your purpose, achieve your goals, and live a happy and fulfilled life. You have to ask and trust the universe and you shall receive. Your feelings have a significant role in the process, the way you feel you attract similar kinds of things, people and situations into your life.
If you want to make your life purposeful, you can. If you want to manifest a job of your choice, it is possible. The key lies in your emotional vibration. Be positive, trust the Law of Attraction, have faith in the Universe, release all your doubts and fear, and follow the process sincerely. You can manifest your desired life.
Once your mindset changes everything outside starts changing. The way you look at the world forms your perception. Start looking at the world from a positive perspective and your entire world will change in a positive way.
Law of Attraction Journey
Here is an inspiring story of one of our Awesome Tribe Member, who started his Law of Attraction Journey when he was in a devastating state due to irreplaceable personal loss. Following Law of Attraction, he gathered his life together, got back on his feet and manifested Government Job. After that no looking back. He went on manifesting many things in life and recently he experienced a miracle which he shared with us.
Here is his miraculous story that is highly encouraging to believe in the power of positive thinking and the universe.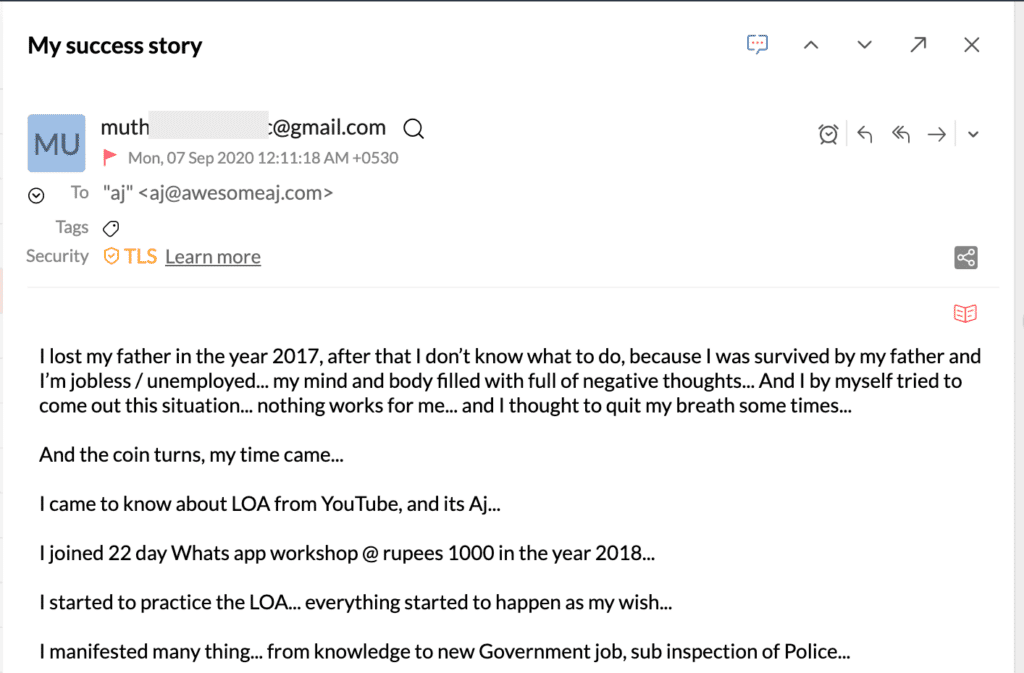 I lost my father in the year 2017, after that, I don't know what to do because I was survived by my father and I was jobless/unemployed. My mind and body were filled with full of negative thoughts. And I by myself tried to come out of this situation. Nothing worked for me, and I thought to quit my breath sometimes.
And the coin turns, my time came…
I came to know about the Law of Attraction from YouTube, and it's AJ. Then I joined his 22-day workshop in the year 2018. That lead me to practice the Law of Attraction. Everything started to happen as per my wish.
I manifested many things; from knowledge to a new Government job, Sub Inspection of Police.
I let know everything to my Universe, and the Universe let the door open to me, whatever I want. I witnessed the Universe works for me in many bad situations for two years.
Experience of a miracle
The recent miracle is I got a Hero Honda Splendor Bike. Due to COVID /lockdown, I used to ride the bike to go to my home town which is 160 km from my working place.
Last Friday I started the journey (4.9.2020), and after my last service of the bike, I drove around 3000 km, without changing the engine oil. But before taking the bike I asked the universe for a safe and successful journey.
But When I reached around 120 km, the bike stopped and did not start. I was worried and the time was around 11.00 pm. I was deserted in the no-man area since it was on lockdown. And I think about my manifestation that I asked for the universe. the safe and successful journey. I took 10 long breaths and kick the starter and a miracle happens, I reached another 40 km with 70 Kmph top speed. The journey was safe and successful. I reached my home at around 12.00 at night.
Then I thought to change my engine oil, I went to the workshop and they tried to dry out the old oil and fill a new one, but there was no engine oil in the engine, everyone around the workshop was shocked. They asked me, "how do you come from a home in this condition, the bike could be seized". And the workshop was around 4km from my home.
I replied, "I came all the way from Chennai with this bike". No one believed me.
Even some of you also don't believe my successful story… to them what I want to say is … this is my gratitude towards The Universe…
Thank you Thank you thank you universe.
---
Law of Attraction Manifestation
You always have a choice to choose the right path. When you chose the right path you experience a miracle. After the loss of his father, he became hopeless and gave up the idea of living but when he came across Law of Attraction, and our YouTube channel, he changed his life forever in a positive way.
He joined the Make Your Life Awesome Program – A Law of Attraction Manifestation Program that helped thousands to manifest their dreams. It helped him to manifest his dream job and multiple things in life. However, the most important thing is his positive transformation in life. Living a happy positive life. Believing in the universe and letting things happen positively in his life. So he manifested this miracle too.
The Law of Attraction is no less than magic if you believe in it. As you have seen how his positive attitude created a miracle for him. The Law of Attraction works best for those who believe in the universe without doubting it. It can surprise you with miracles like in the story, he travelled 160 km without engine oil and was able to reach his destination.
The Key Learnings from this story are:
A positive attitude is a key to achieving anything in your life from personal to the professional universe.
Miracles do happen when you firmly believe in the universe. Trust the process.
Never give up, you never know what good is coming your way.
Believe in the power of Gratitude and being grateful for what you have.
Where there is trust there is no space for doubt and fear. 
"You are never in the wrong place. Sometimes you are in the right place looking at things in the wrong way.'' – Abraham Hicks
We have a number of stories of people who have changed their lives by switching to a positive mindset and bringing happiness in their life by achieving their heart desires and success.
And every success story has something to say and the one thing that is common in all the stories is the achievement of various goals by participants with the help of the Law of Attraction. It's our pleasure to guide you in your respective manifestation journey with our programs where we make people understand the power of the Law of attraction and positivity and how to achieve your goals by using various Law of Attraction tools and techniques like visualization, affirmations, gratitude, and meditation.
We wish you success, happiness and abundance.
Love & Gratitude,
Awesome AJ – Ajay Mishra
Stay Motivated, Stay Awesome!