Dear Dreamer,
Thank You for Signing Up for the FREE LAW OF ATTRACTION COURSE
Open this email and click the relevant links and download your Free Gifts.
Well, I have a challenge waiting for you inside the email.
It's Super Easy.
Note: If you couldn't find the email then do a search for ' aj@awesomeaj.com ' in your mailbox and you will find it for sure.
But if you are using GMAIL then probably you haven't seen the mail in your inbox.
As GMAIL has changed its algorithm last year most of the emails get delivered to other tabs and folder then the inbox.
It's not good that you have subscribed but struggle to find the emails in your inbox.
If you are using any email other than GMAIL then no problem, head over to your inbox and start reading.
But if you are a GMAIL user, then please take 5 minutes of your time and do this mailbox configuration so that you will get all my emails in your inbox always.
Yes, it will take ONLY 5 MINUTES. And I am going to guide you STEP-by-STEP now.
It's worth giving 5 Minutes than missing valuable resources and FREE GIFTS.
Get All The Emails in Your GMAIL INBOX
STEP-1. Head Over to GMAIL. If you can't see my email in your inbox. Check here.
STEP-2. Find the Email.
STEP-3. Open the Email and Start Doing the SETTING.
STEP-4. Make it Starred and save.
STEP-5. Again click on the Setting Gear Button.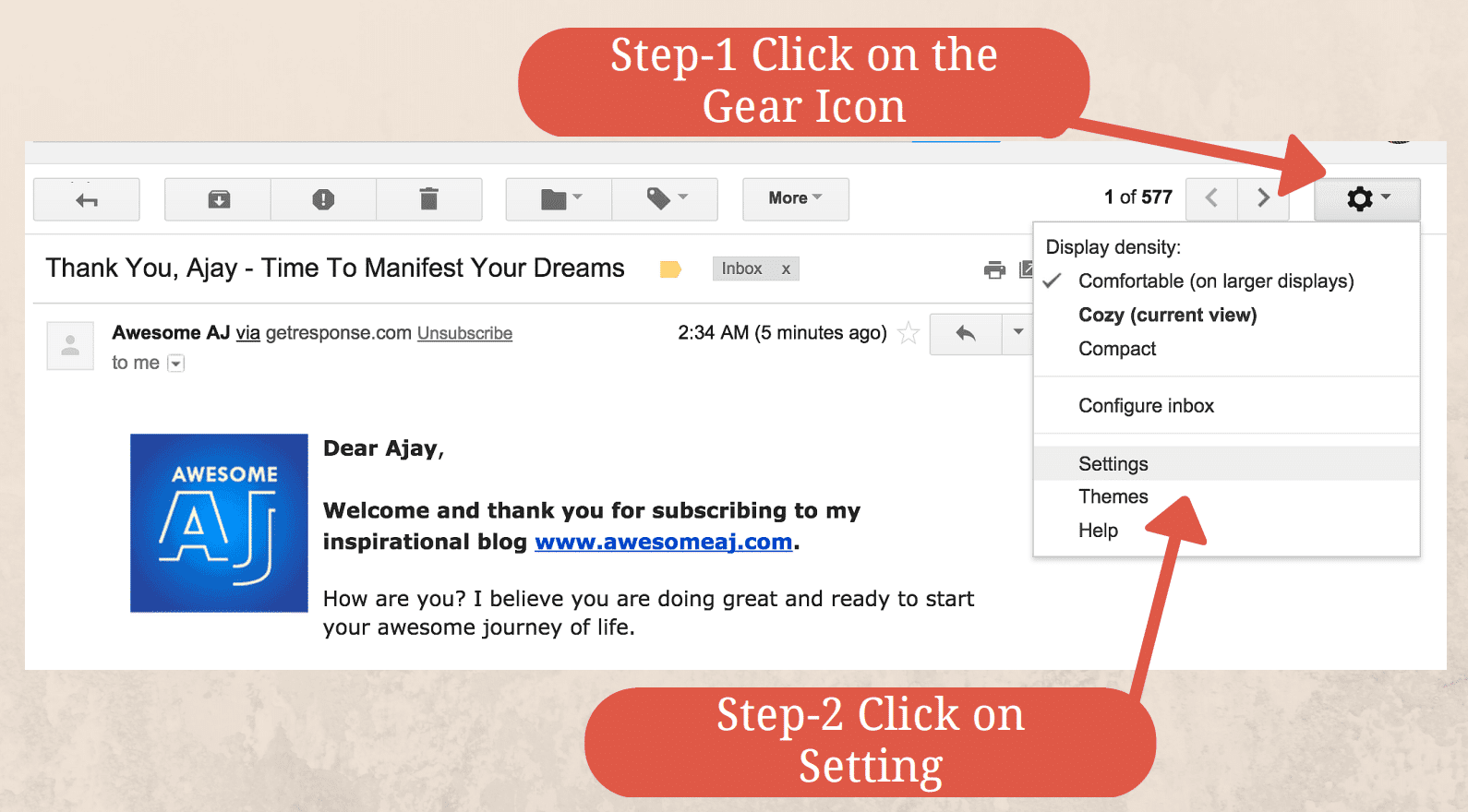 STEP-6. Click on the FILTER tab.
STEP-7. Create New Filter.
STEP-8. Set aj@ awesomeaj.com in the from the field and create the filter.
STEP-9. Finally Setting Up the Filter for aj@ awesomeaj.com and it's done.
WOW ..that's awesome. It just takes 5 Minutes but ensures that you will never miss a single email.
Also, join me on FACEBOOK and YOUTUBE for more Motivation.
You Are Awesome.
Awesome AJ
Stay Motivated, Stay Awesome