Are You Ready To Boost Your Power of Manifestation?
If Yes, then watch this video. It will help you understand 'How Law of Attraction Meditation Can Enhance Your Power of Manifestation?' And Listen to A Powerful Law of Attraction Story of how meditation could help Jeevanitha manifesting everything effortlessly.
✅ Law of Attraction Meditation Can Enhance Your Power of Manifestation
In this video you will learn:
How can Law of Attraction Meditation help you manifest faster?
What is the most effective way of doing the meditation to enhance your power of manifestation?
How to use the law of attraction meditation to heal your relationship?
Why should you practice meditation on a daily basis to enhance your power of manifestation?
How to use heal your heart meditation to attract more success?
And you will listen to Jeevanitha's awesome transformational story.
✅ Meditation Is The Main Tool of Magical Manifestations – Jeevanitha's Experience
Here is Jeevanitha's Magical Experience that she shared after the completion of HEAL YOUR HEART Meditation Program.
Hello everyone…it's time for me to share my experience after enrolling in the heal your heart meditation program by Awesome AJ…It was a last-minute decision as I thought it won't make much difference as I have taken all his programs…But I was wrong, this meditation is the core tool for everything that's what I could say…
Everyone knows what meditation is all about…but whether we are doing correctly or not, we really don't know that till we are guided by the right person…Of course, we can't be going to a monastery to learn the art of meditation with perfection…But Awesome AJ made it possible for us with just this program at our own place…
After the program, I meditate in the morning once I wake up and before going to sleep at night…If I have some privacy I will do it anywhere in the afternoon or evening even for a few minutes…
The result is magical…I'm more aligned in my life…whatever I wish happens easily like getting something done, even attracting food I desire it just comes in front of you effortlessly 
;) or even if u want to contact someone they approach u before u do anything and most of all u become more forgiving relaxed and calm…People around can be so negative but with meditation, they can't harm you its proven…u have your own world.
The best part is money keeps flowing to you easily and you get to do whatever you wish easily…I notice the universe is listening more when you meditate.
Relationships become magical…I am surprised with the change of attitude of my loved ones which was effortless…People around u start treating you with so much of love and respect…
Connecting with inner power through meditation is truly magical… That's the main tool of magical manifestations… Its wonderful….zillion of thanks to Awesome AJ and team…I'm immensely grateful for this life skill given with so much love….thank you thank you thank you
---
✅Heal Your Heart and Boost Your Power of Manifestation
I believe Jeevanitha's Story must have inspired you to practice meditation on a daily basis.
If you are already meditating on a daily basis then that's awesome. Practicing meditation regularly will significantly enhance your life, positive energy and power of manifestation.
We get hundreds of email where people just like you shared their difficulties in doing meditation. Everyone wants to do meditation but many of them are confused on how to practice it? And they wonder if daily meditation can help them manifest their desires.
I have been teaching meditation in my workshops. I have been teaching participants on how to use it to manifest your goals and desires. A few months back I decided to create a Meditation Program online that will not just help participants learn meditation and become peaceful but Magnify their Power of Manifestation.
Our HEAL YOUR HEART Meditation Program is a 21 Days Meditation Journey. So far hundreds of dreamers like Jeevanitha have been a part of this program and they have experienced tremendous transformation.
If you are ready to remove anger, resentment, pain, sadness, stress, anxiety and all kind of negativities from your heart then you too can start your meditation journey now.
It's time for you to Increase Your Power of Manifestation Significantly with Heal Your Heart Meditation Program.
---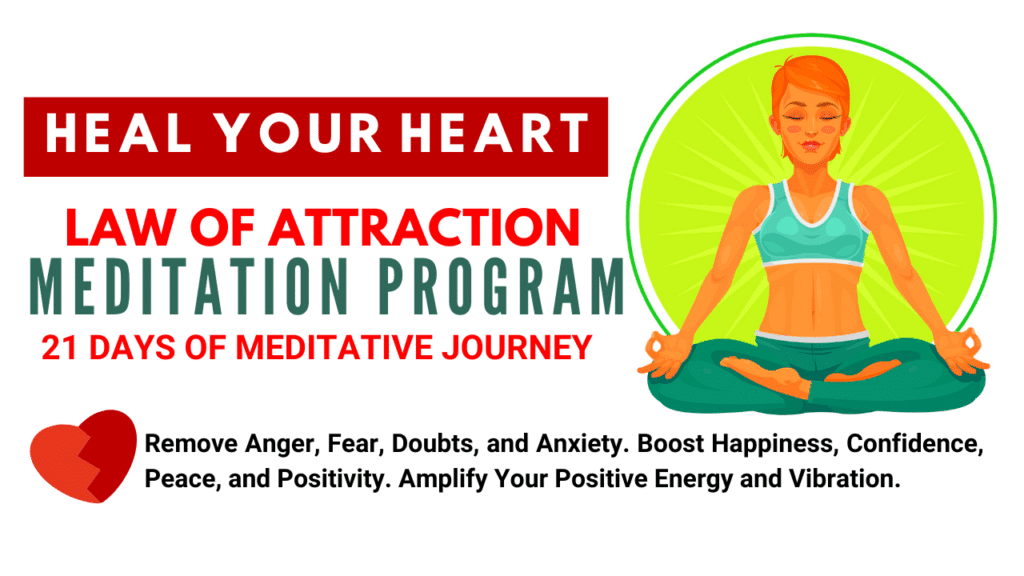 ---
Copyright 2018 by Big Manifestation Academy. All rights reserved.
---
Are You Feeling Inspired? Share This Post on Facebook, LinkedIn & Twitter.