A Magical Law of Attraction Technique To Speed Up Your Manifestations  10 times faster!
Are You Ready To 10x Your Manifestations?
Are You Ready to Speed Up Law of Attraction Manifestations Like Crazy?
If you are saying YES then watch this video and learn  Two Magic Words To SPEED UP Your Law of Attraction MANIFESTATIONS. This Simple yet powerful method was used by all the successful people including the great scientist Albert Einstein.
In today's world, we all want to be successful, rich, achieve our dreams and goals, want a perfect life partner, dream house, dream car, and the list goes on. To achieve these dreams so many of you are bringing more enviousness, comparison, dissatisfaction and other negative vibrations in your life. You are doing it consciously or sub-consciously. That's why even if you progress in one area of life, you struggle in many others.
Have you ever thought about what's going wrong? Or what is that is lacking to be at peace and achieve all your dreams?
The answer is very simple and its just two magical words of gratitude "Thank You!"
To explain in terms of the Law of Attraction – What You Feel, You Attract.
If you feel good, you attract more good into your lives and vice-versa.
The root of practising Law of Attraction is nothing but gratitude. The more you are grateful for, the more you attract. Gratitude Is A Great Multiplier.
There are many successful and great people who practice Gratitude and have done wonders in life. For example, Albert Einstein, Oprah, Virat Kohli just to name a few, all of them have one thing in common that is practicing gratitude.
"The more you use gratitude every day, the greater the good you will bring into your life. It is all you have to do to completely transform your life in every single area, and on every single subject. There are no limits to the good you can bring forth to you, and by practicing gratitude daily, you will increase and maximize your magnetic power to attract a life beyond your wildest dreams." -Rhonda Byrne, Author of The Secret
How To Practice Gratitude?
#1.  Be Grateful For The Present
Think of all the positive things you already have in your life. However, most people have taken them for granted. For example, the job that you have, the house that you live in, the family that you have, the body you are gifted with, the air you are breathing to stay alive, tour experiences, etc. Start being grateful for every small to big things that you have with you.
Remember what you once wanted and you have that currently in your life, show gratitude for these things.
#2. Be Grateful To The Past
Think of all the positive things you had received in the past may it be money, education, gifts, relationships, etc. Think about them and feel the happiness and joy that the Universe had given you.
#3. Show Gratitude To The Future in Advance
Be grateful for all the things and goals you wish to achieve as if they are already manifested. Be as grateful and joyful as you can by visualizing, which will eventually come true. Let the 'how' and 'when' be taken care by The Universe. Give Gratitude in Advance and Achieve Everything That You Want.
How Powerful Is Gratitude?
Gratitude unlocks the fullness of life. Gratitude turns denial to acceptance, chaos to order, confusion to clarity. It can turn a meal to a feast, a house into a home, a stranger into a friend.
Gratitude turns negative energy into positive and hence more alignment with the Universe and speeding up the process of manifestation.
This world of hatred can be turned into a beautiful place to live in if we are inclined to gratitude and positivity in life.
As soon as you wake up, the first thing you should be grateful for is that YOU ARE ALIVE TODAY. And then say THANK YOU to your senses, to your body through which you are experiencing this short journey on earth. And say THANK YOU to experience these beautiful emotions of Love, Joy, and Happiness.
It is up to you to live this journey doing and achieving what you want with joyfulness or just being stuck in low emotions and negativity.
THANK YOU, these two magical words can make life simpler and beautiful.
Gratitude changes your way of looking at things, it gives you the courage to stand in the storms and face them gracefully. After all the journey is important than the destination, you never know the magic you may discover meant for you on the way.
You can make gratitude a part of life just by practicing it for 28 days. It is a known fact, it takes 28 days to make a habit and 90 days to make it a lifestyle.
So keep showering love to Universe in the form of gratitude and be ready to receive abundance in life.
THANK YOU, the Two Magical Words that Can Speed Up Your Manifestations 10x Faster.
 Master The Magic of Gratitude with our 28 MAGICAL PRACTICE PROGRAM
---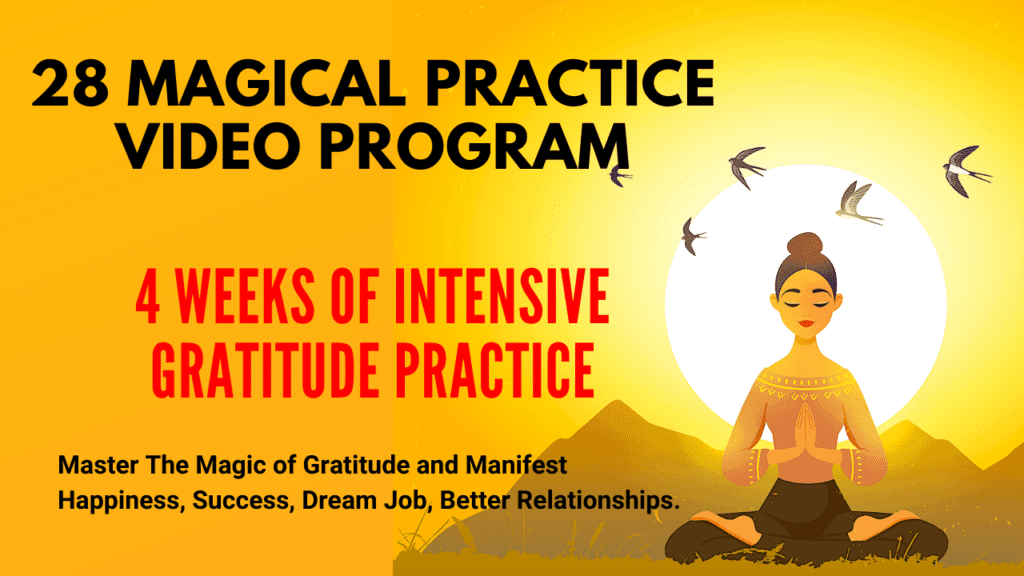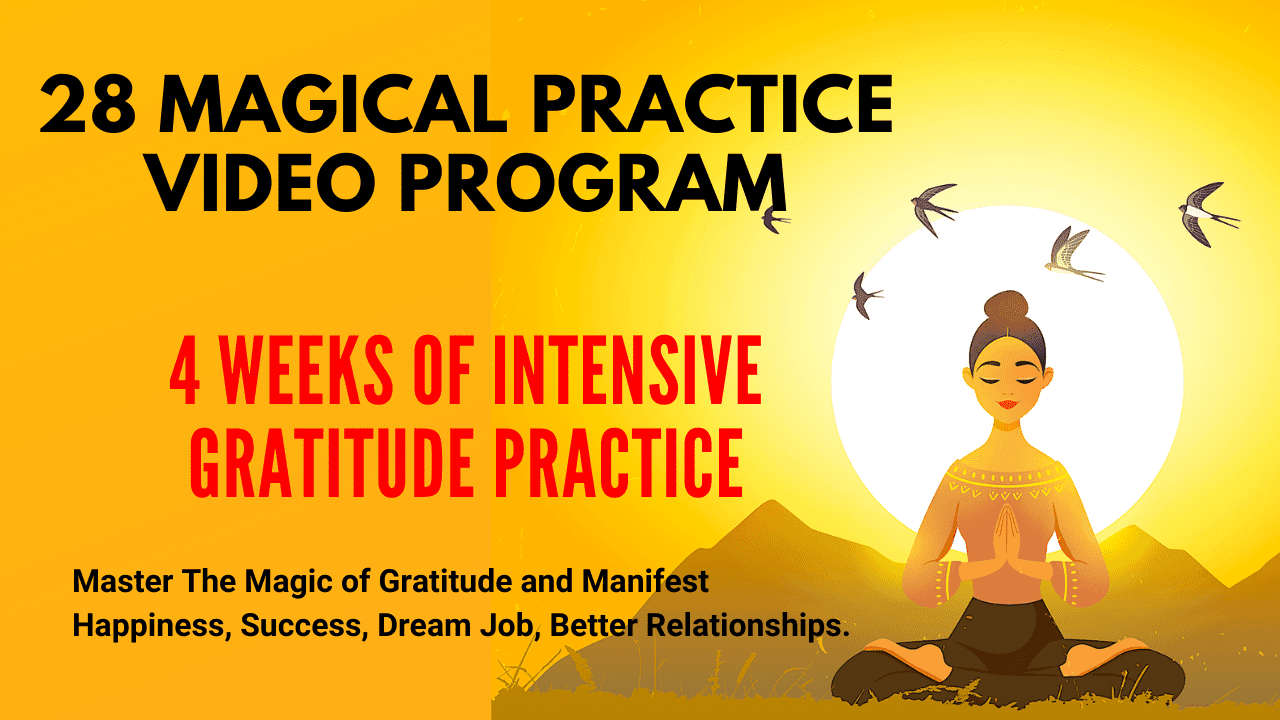 ---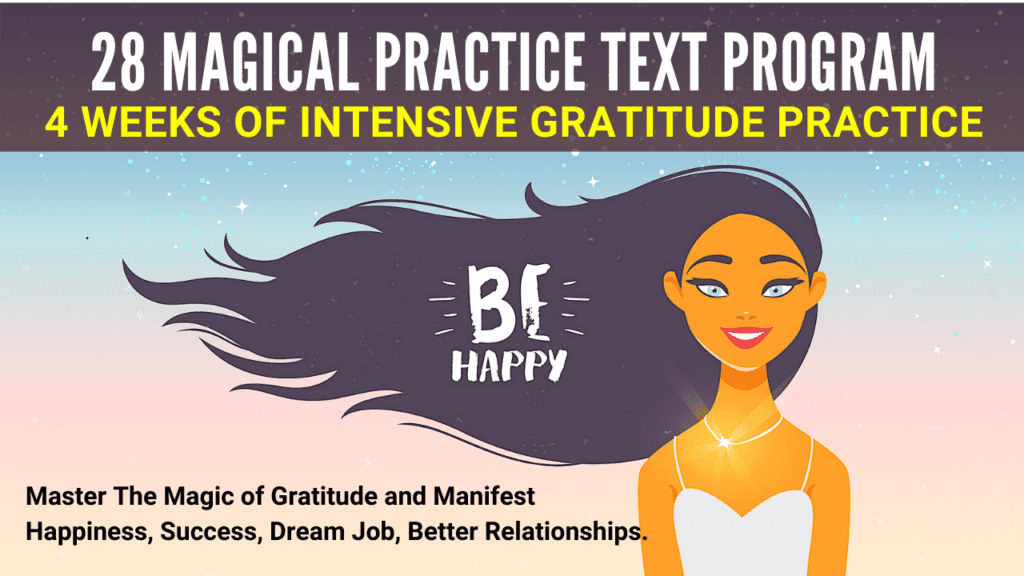 ---
Copyright 2013-2019 by Big Manifestation Academy. All rights reserved.
---
Are You Feeling Inspired? Share This Post on Facebook, LinkedIn & Twitter.